The SJC gold price in Hanoi this morning was posted at VND 35.36 million per tael in the buying and VND 35.48 million in the selling while in the domestic retail gold market, the prices of SJC gold were trading at VND 35.37 million per tael, a reduction of VND 660,000 compared to yesterday.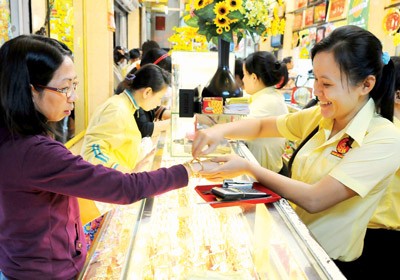 Gold prices reduce VND 660,000 in local market -Photo: SGGP
In HCMC, the prices of SJC brand were sold at VND 35.30 million - 35.55 million per tael while the prices posted at VND 35.83 million - 36.05 million per tael yesterday.
Compared to July, the SJC gold price reduced VND 4.4 million per tael, equal to 11 percent. Local Gold & Jewellery enterprises said gold price in the domestic gold market has been adjusted due to gold price on the world market has reduced sharly since past three years.