The domestic gold price dropped to the lowest level of the year on Tuesday, following considerable price decreases in the world market.

In the morning, the world price dropped to US$806.7 per ounce, decreasing by $60 compared with Monday. Ho Chi Minh City saw the prices of SJC and PNJ-DAB gold fell to VND16.75 million per tael, down VND1 million. People rushed to buy in but surfing investors saw big losses.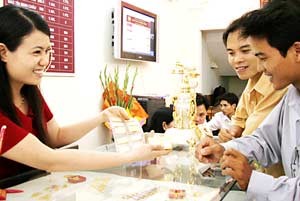 Gold traded at a shop in Ho Chi Minh City Tuesday (Photo: SGGP)
On the Tuesday morning alone, surfing investors at the ACB gold trading floor might lose billions of dong, said Huynh Duy Sang, an executive at the place.
On the Monday afternoon, investor Mai Thi Hue bought 100 SJC gold taels at VND17.7 million per tael. Overnight, her loss (including the interest rate) exceeded VND150 million.
Gold surfing investors called August 12 a gold storm that took lot of money away from them. Meanwhile, long-term investors said it was still early to know, and they would continue their venture until the beginning of the fourth quarter to know profit or loss.
The reason of the considerable decrease, as described by Mr. Huynh Trung Khanh, advisor to the World Gold Council in Viet Nam, was the decline of world oil price, which was the lowest of the past 14 weeks. In addition, China's and India's import of gold has dropped drastically while SPDR, the US's largest gold investment fund, sold out additional 9,000 ounces on the weekend.
On the Tuesday afternoon, the price of SJC gold in HCMC increased to VND17 million per tael due to a large number of buyers. The world price also rose to US$810.4 per ounce.