Gold price in Vietnam this week is set to continue its rising momentum on the increasing global price after making some corrections from investors' profit-taking move, experts predict.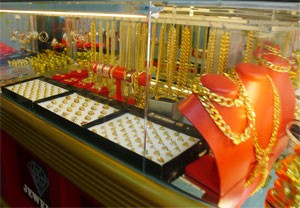 Vietnam's gold price is predicted to continue to move up this week (Photo:Phan Hien)
Saigon Jewelry Company Limited, Vietnam's largest gold merchant, announced on its website that gold was sold for VND37.93 million (US$1,897) per tael in Ho Chi Minh City on Wednesday. A tael is equivalent to 1.21 ounces.
 
Meanwhile, the Hanoi-based Phu Quy Jewelry bought SJC-brand gold at VND37.88 million and sold at VND37.96 million at the same time.
The increasing gold price this week encouraged people to sell the precious metal, Le Thi Cuc, deputy general director of the HCMC-based jewelry maker Phu Nhuan, told Dau Tu Tai Chinh Newspaper that.
However, there was a large deficit between selling and buying prices of retail gold shops as they were concerned on the volatile global price, experts said.
Vietnam's gold price remains lower than the international price as people still prefers to deposit their money in banks, which offer high saving rates.
"I expect the domestic gold price will likely to follow the global trend. However, despite the rising price, the local demand for the precious metal will tread water due to low depositing interest rate on gold," said Dr. Nguyen Khac Quoc Bao of the University of Economics Ho Chi Minh City.
Internationally, gold gained for a third day in New York as concern about Europe's debt crisis, signs that the U.S. economy was slowing and a weakening dollar spurred demand for the metal as an alternative investment.
Gold for immediate delivery rose as much as $0.8 an ounce over the previous trading session to settle at $1,545.7 an ounce on the Comex in New York.
In Asia, the precious metal strongly sank this morning. Spot gold gave up $4.1 an ounce over the closing price in New York to trade at $1,541.6 an ounce as of 10 am Vietnamese time.
The US dollar remained at a record low against a basket of major currencies. The euro exchange rate against the US dollar stood just below $1.47 a euro in Tokyo this morning from nearly $1.46 a euro the previous day.
Crude oil futures for July settlement rose as much as $0.08 a barrel to close at $99.09 a barrel on the New York Mercantile.
This morning, crude oil fell to just above $98.6 a barrel as of 11 am Vietnamese time. Crude oil dropped amid speculation that OPEC will increase production quotas at a meeting in Vienna even as the US gasoline demand weakens.