The price of gold in Vietnam nosedived by VND750,000 a tael (1.2 ounces) over the closing price the previous day on August 24 as global price stumbled 3.6 percent in the trading session in New York due to profit-taking.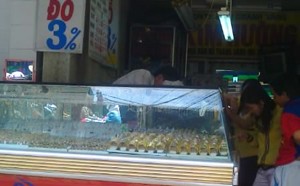 The price of gold in Vietnam nosedived by VND750,000 a tael (1.2 ounces) over the previous day on August 24. (Photo: Uyen Phuong)
Saigon Jewelry Company, the biggest gold shop in Vietnam, bought gold at VND47.4 million and sold at VND47.7 million at 10 am local time.
Sacombank Jewelry Company collected gold at VND47.46 million and sold at VND47.67 million.
Hanoi-based Phu Quy Jewelry Company purchased SJC-brand gold at VND47.5 million and sold at VND47.95 million at the same time.
Domestically, gold fetched around VND1.1-1.4 million a tael higher than global price.
Along with having allowed firms to import 5 metric tons of gold on August 9, the State Bank of Vietnam is also considering mobilizing gold through some commercial banks to cool soaring local prices.
On foreign currency market, the central bank unexpectedly raised the US dollar interbank exchange rate by VND10 to VND20,628. As a result, commercial banks also increased their rates. State-owned Vietcombank bought the greenback at VND20,830 and sold at VND20,834, an increase of VND10 per dollar over the previous day in both buying and selling prices.
Meanwhile, the dollar exchange rate on free market surpassed VND21,000 yesterday and continued climbing this morning. The greenback was bought at VND20,980, and sold at VND21,030.
Internationally, gold declined at the steepest pace in the past 18 months as investors dumped gold to take profits of previous gains.
Gold for immediate delivery fell as much as $68 an ounce, or 3.6 percent, to close at $1,831 an ounce on the Comex in New York.
Holdings at SPDR Gold Trust, the largest exchange traded fund backed by bullion, dropped by 24.83 metric tons to 1,259.57 metric tons. Earlier, the company also sold 6.3 metric tons. Therefore, its holdings reduced by 31.13 metric tons within two days, equaling to the amount of gold the fund bought this month.
However, bottom fishing demand buoyed the metal in the trading session in Asia this morning. Spot gold gained $23.6 an ounce, or 1.3 percent, to trade at $1,853.8 at 9:45 am Vietnamese time.
The euro exchange rate against the greenback hovered around $1.44 in Tokyo this morning, almost unchanged as of the previous day.