The price of gold in Vietnam declined to around VND45 million per tael (1.2 ounces) on August 11 as global price sharply plunged due to profit-taking.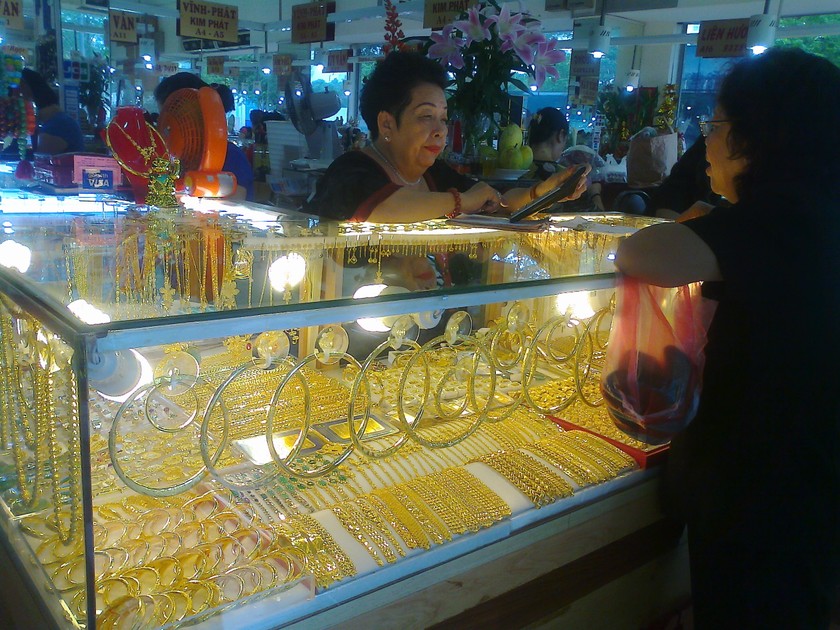 (Photo: Uyen Phuong)
Saigon Jewelry Company, the biggest gold shop in Vietnam, quoted the price at VND44.4 million for buying and VND45 million for selling as of 9:30 am local time.
Hanoi-based Phu Quy Jewelry purchased SJC-brand gold at VND44.3 million and sold at VND45 million at the same time.
Earlier, the metal climbed to VND46 million a tael.
Domestically, gold fetched around VND200,000 a tael higher than global price.
The US exchange rate strongly rose this morning. State-owned Vietcombank bought the greenback at VND20,814 and sold at VND20,824, an increase of VND79 per dollar in buying price and VND10 in selling price from a day earlier. The inter-bank exchange rate remained unchanged at VND20,608 per dollar.
On free market, dollars were bought at VND20,800, and sold at VND20,900, up VND65 per dollar in buying price and VND85 in selling price over the previous day.
Internationally, gold jumped on increased demand for a haven investment as global equities slumped on escalating European and US debt woes.
Gold for immediate delivery surged as much as $51.3 an ounce over the previous trading session, or 2.9 percent, to close at $1,796.4 an ounce on the Comex in New York. Earlier, the metal exceeded $1,799 an ounce.
In Asia, gold soared to nearly $1,814 an ounce this morning. However, the yellow metal soon retreated as investors sold gold to make up loss caused by securities investment channel. Spot gold fell $12.2 an ounce over the closing price in New York to trade at $1,784.2 an ounce as of 9:30 am Vietnamese time.
The metal also dropped because CME, the world's largest futures market, raised margins on gold contracts by 22 percent with effect from the close of business today.
Concerns over French banks' fiscal health, including Societe Generale, urged investors to dump shares of European and US banks. Rumors about financial status of Societe Generale caused its stocks to drop by 14.7 percent. Meanwhile, the sovereign-debt tsunami continued to hit Italy and Spain.