The price of gold in Vietnam rallied by VND1 million a tael (1.2 ounces) over the previous day on August 27 as global price closed week at $1,829 an ounce in the trading session in New York last night.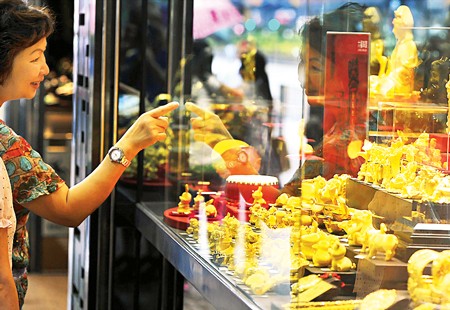 A gold shop in Hong Kong. (Photo: SGGP)
Saigon Jewelry Company, the biggest gold shop in Vietnam, bought gold at VND47.5 million and sold at VND47.8 million at 11:30 am local time in Ho Chi Minh City. Earlier, the metal was traded at VND48.3 million.
In Hanoi, the company quoted the price at VND47.5 million for buying and VND47.82 million for selling.
Sacombank Jewelry Company collected gold at VND47.11 million and sold at VND47.69 million.
Hanoi-based Phu Quy Jewelry Company purchased SJC-brand gold at VND47.3 million and sold at VND47.85 million at the same time.
Domestically, gold fetched around VND2 million higher than global price.
On foreign currency market, the inter-bank US dollar exchange rate stalled at VND20,628 for the four consecutive day. Vietcombank also continued buying the greenback at VND20,830 and selling at VND20,834. Asia Commercial Bank bought dollars at VND20,810 and sold at VND20,834. Tension has appeared on the monetary market as some banks traded the greenback at actual costs which were much higher than quoted rates by adding additional fees.
Meanwhile, the heat returned to free market. The US dollar exchange rate was quoted spontaneously. Yesterday, some agencies in Ho Chi Minh City announced the rate at VND21,900. This morning, the rates were cooled down. Some foreign currency exchange agencies in Nguyen Hue Street, and around Ben Thanh Market bought the greenback at VND21,100 and sold at VND21,300. Meanwhile, some jewelers around Tan Dinh and Ba Chieu markets collected dollars at VND21,100-21,150, and sold at VND21,400-21,500.
Internationally, gold rose for a second straight day in New York after the US Federal Reserve Chairman Ben Bernanke offered no plan to provide further stimulus for the economy. While saying the central bank has the tools to spur growth, he refrained from outlining a plan for a third round of so-called quantitative easing.
Gold for immediate delivery strongly recovered to close week at $1,829.1 an ounce on the Comex in New York.
Gold futures for December delivery also gained $34.1 an ounce to $1,797.3 an ounce.