The Prime Minister has approved a development fund to support small and medium businesses, which will help these enterprises increase production and trade in their respective fields.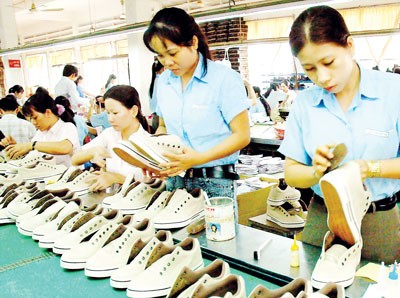 A shoe production unit in Ho Chi Minh City (Photo: SGGP)
The nonprofit fund will operate under the management of the Ministry of Planning and Investment and enjoy tax exemption.
Financial assistance will be channeled through the Vietnam Development Bank and some other commercial banks.
The government will provide an initial sum of VND2 trillion (US$96 million) towards the fund that will gradually help businesses enhance competitiveness, create employment and increase income of laborers.
With a maximum loan duration period of seven years, loans will be available on 70 percent of the basic capital not exceeding VND30 billion ($1.44 million).
Interest rate will be decided by the Ministry of Finance based on current credit ratings and not more than 90 percent of present lending rate.
According to the Business Annual Report by the Vietnam Chamber of Commerce and Industry (VCCI) released on April 18 in Hanoi, Vietnamese businesses are becoming smaller in terms of labor in the last ten years. The number of workers fell from 74 per company in 2002 to 34 in 2011.
However basic capital has increased substantially from VND23 billion in 2002 to VND47 billion in 2011.
Medium size businesses account for only 2.1 percent in Vietnam, which tend to reduce work force and rarely grow into larger companies.
The period 2002-2010 witnessed impressive development in the services, property and consultancy sectors with annual growth rate of 35 percent.
Capital investment has increased much more in the service sector, but dropped at a steady pace in the agro-aqua-forestry and industrial industries.