Deputy Prime Minister Vu Van Ninh has affirmed Vietnam's policy of creating the best possible conditions for foreign businesses and investors in Vietnam and ensuring their legitimate rights in accordance with the country's law as well as international practices.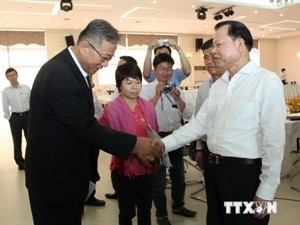 Deputy Prime Minister Vu Van Ninh meets with representatives from foreign businesses operating in Binh Duong province. (Source: VNA)
He made the statement on May 21 at a meeting with officials of the southern province of Binh Duong and representatives from foreign and domestic enterprises, including those affected by the recent anti-Chinese protests.
He welcomed the businesses' cooperation with Binh Duong in overcoming the outcomes of the incident so that many firms can resume their normal operation.
According to the provincial People's Committee's report, over 95 percent of the affected enterprises have recovered their production.
He stated that the recent incident is regrettable, underscoring that Vietnam will not tolerate law-breakers.
The Vietnamese Government has instructed local authorities in all affected localities to promptly investigate and punish the violation, while applying effective measures to prevent the reoccurrence of such acts, he noted.
Yamaguchi Kimio, Chairman of the Japanese Business Association in Ho Chi Minh City , said the affected Japanese firms, including those in Binh Duong, has returned to work normally.
He said he hopes more support policies will be provided to help the damaged firms.
Hang Vay Chi, Chairman of the Board of Directors of the Viet Huong Joint Stock Company, said 95 percent of the firms in the Viet Huong industrial park have resumed operation. Currently, 80 percent of the enterprises that the park is hosting are Taiwanese.
He reported that in a recent survey of 15 Taiwanese firms based in the IP, more than half said that they will expand their businesses in Binh Duong, adding that two business delegations from Taiwan are scheduled to visit Binh Duong to explore the province's investment environment.
At the same time, representatives of the Binh Duong Garment and Textile Association suggested that procedure to seek insurance payment should be simplified for affected companies that have their document lost or damaged.-VNA