With rice prices falling lately and farmers in dire financial straits, Prime Minister Nguyen Tan Dung has asked local authorities and food corporations to take urgent measures to buy more rice from farmers at reasonable prices.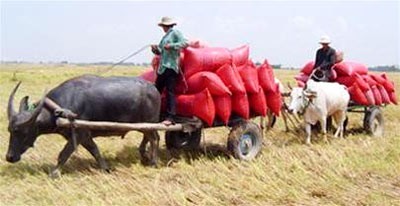 Farmers transporting unhusked rice to warehouses in the Mekong Delta
He made the order at a meeting yesterday on boosting purchases of rice from the Mekong Delta's summer-fall crop.
The Mekong Delta in the south is Viet Nam's main rice basket.
 
PM Dung said that while there had been a long spell of cold weather, crop and animal epidemics and price hike, the Government was working to control inflation, guide and support agricultural production to improve farmers' living standards and assure national food security.
 
Mr. Dung said the Government had, since early this year, planned to export 4-4.5 million tons of rice this year, 3.5 million tons of which will be exported by the end of third quarter.
Thanks to the decision, rice export enterprises actively signed contracts to export 3.6 million tons of rice. But by the end of last month, the country had exported just 2.8 million tons of rice. Meanwhile, farmers continued to harvest, producing vast amounts of unhusked rice.
 
The PM pointed out that rice exporters, especially the Southern Food Corporation and the Northern Food Corporation did not actively buy rice from farmers, and they bought less than they signed for in rice export contracts.
 
He asked the rice exporters to accelerate their shipment to assure that in August and September they could ship all the rice they agreed to under contract (3.6 million tons) and quickly negotiate and sign new contracts with good prices to ensure that the Government export target be reached.
 
He asked the two food corporations to immediately take measures to buy 400,000-500,000 tons of rice this month and ensure they have enough to export.
 
The Ministry of Agriculture and Rural Development and the Ministry of Industry and Trade was asked to coordinate with the Viet Nam Food Association to monitor the two corporations' purchase of unhusked rice and rice.
 
The PM also asked the State Bank of Viet Nam to guide commercial banks to assure sufficient loans at appropriate interest rates for companies who buy unhusked rice from farmers, and extend deadline to old debts and continue to offer loans to farmers who haven't been able to sell their stock but want to continue production.
 
The rice price and consumer price index have been in a downtrend, therefore, the PM decided not to apply export taxes to contracts selling rice at FOB prices of less than US$800 per ton.
Related article:
Mekong Delta Has Lots of Rice in Stock