The Government will make it easer for the private sector to access official development assistance (ODA) through the public-private partnership model.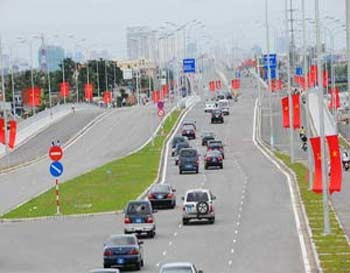 A section of the Japan ODA-funded East-West Highway in District 6, HCMC, which opened to traffic in September 2009 (Photo: Tuoi Tre)
This assurance was given by Ho Quang Minh, Head of the External Economics Department under the Ministry of Planning and Investment (MPI), at a press briefing prior to a mid-term conference of the consultative group scheduled to take place in the central province of Ha Tinh on June 8-9.
This, along with other commitments, came at a point when Vietnam lags behind other ODA recipients in funding disbursement and in a context where Vietnam has joined the group of middle income earners with tougher conditions for aid eligibility.
Deputy MPI Minister Cao Viet Sinh blamed the problem on common delays in construction, slow processing of projects and limited capacity of managerial staff and project executives.
"Necessary efforts should be made to harmonize procedures and the interests of both donors and local executives, in order to remove hurdles for every project and speed up the tempo of disbursement," he emphasized.
That is why infrastructure and legal upgrades, as well as human resources development, are top priorities in the Government's draft for ODA attraction in the next five years up to 2015.
Other fields such as poverty alleviation, social welfare and climate change adaptation also take high places in the list of disbursement priorities.
The Government will do its best to meet donor requirements, as ODA still plays a very important role in the nation's socio-economic development, which in the next five years is in need of between 290 and USD300 billion , reported the MPI.
In the first five months of the year, Vietnam had made a breakthrough in ODA disbursement, cashing out USD1.3 billion  or 52.5 percent of the yearly target.
The signing of credit agreements with donors has also showed positive results with commitments estimated at USD1.66 billion , of which over USD1.63 billion is in loans and over USD27.4 million  in grants.