The Vietnamese economy will gradually recover in 2015 with GDP growing at an expected 6.2 percent, economists told a conference in Ho Chi Minh City on January 22.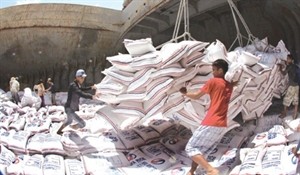 Workers load rice for export at Sai Gon Port in HCM City. Economists forecast that the Vietnamese economy will gradually recover in 2015 with GDP growing at an expected 6.2 per cent (Photo: VNA/VNS)
"The economy will truly recover, albeit slowly, thanks to good macroeconomic management, stable finance and monetary policies, low inflation, and active restructuring of State-owned enterprises," Tran Du Lich, a member of the National Assembly's Economic Committee, told the Vietnam Economy Scenario 2015 conference.
To accomplish this, he pointed out that the Government has adopted a consistent macroeconomic policy for the last four years focusing on stabilising the economy rather than growing it at any price.
But he said the recovery is contingent on three important conditions — economic stability, clear and transparent legal system, and a business-friendly administration.
"A stable macro economy would help companies predict the future, while a clear and transparent legal system would help them feel secure about investing and doing business. And a business-friendly administration would help them improve their efficiency."
He said 2015 would be a year of intensive integration and the "opportunity is promising and challenges are real."
"Vietnam is tweaking its legal system in line with the ASEAN bloc and this will create favourable conditions for companies to develop and integrate."
By 2015 Vietnam must complete a zero-tariff list which will include 93 percent of all goods while the remaining 7 percent can carry tariffs of up to 5 percent until 2018.
Eleven laws will be amended and take effect by the middle of the year.
Vo Tri Thanh, Deputy Director of the Central Institute of Economic Management, agreed with Lich that the economy would recover in 2015.
"Institutional renovation will need more effort but the risk will remain very high."
According to deputy head of the Central Economic Commission Le Vinh Tan, the economic pitfalls include challenges to sustainability, growth falling short of potential, production inefficiency, high public debts and pressure to repay, high ratio of bank bad debts and their slow resolution, and significant fall in oil prices.
Le Xuan Nghia, member of the National Financial and Monetary Policy Advisory Council, said: "If Vietnam does not have proper fiscal policies, interest rates will go up. Therefore fiscal policies must dovetail with monetary policies to keep interest rates steady or even bring them down and keep inflation under 5 percent."
He also mentioned the biggest risk for economic growth in 2015 is process to deal with bad debt.
"The legal system is not robust enough to cope with bad debts because they are governed by 11 different laws.
"The Government should speedily improve the legal system [which] would impact State Owned Enterprises' restructure speed and economic development."
He also listed smuggling and commercial fraud as other risks facing the economy.
"Reform of the legal system is the most important task in ensuring sustainable economic growth in the long term."
Dominic Mellor, the Asian Development Bank's country economist for Vietnam, warned however that it would not be easy for Vietnam to integrate into the ASEAN Economic Community.
"Vietnam faces the challenge of transitioning from central planning toward a more open economic model in which the private sector leads growth and development.
"The legacy of central planning and the continued lack of transparency and consistency in government policy and its implementation still affect entrepreneurs' attitudes toward more open approaches of doing business."
The conference, organised annually by the Vietnam Economic Times newspaper, this year discussed "Intensive integration, fierce competition".-VNA