The annual Ha Noi International Trade Fair (Ha Noi Expo 2006) will be organized by the People's Committee of the city to welcome the APEC 2006 Summit as well as celebrate the National Day on September 2 and Liberation Day of Ha Noi on October 10.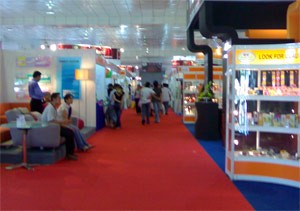 Expos are opportunities for enterprises to introduce their products and services to customers and partners. (Photo: KK)
The expo will showcase social, cultural and economic achievements, commercial activities, investment projects and special products of Ha Noi and other localities nationwide. This is also a chance to introduce well known and prestigious brand names of local enterprises to foreign companies.
Nearly 300 Vietnamese enterprises from fields of key industries, IT, trade and service, tourism, construction, real estate, handicraft, agriculture, high-tech and processing will take part in the trade fair.
In the expo, there is also a seminar on Ha Noi's investment and trade promoting opportunities, and the vote for Thang Long Cup, a prize for Ha Noi's outstanding products and typical enterprises by the city People's Committee.
The expo will take place at the Vietnam Exhibition and Trade Fair Centre at 148 Giang Vo Street, Ba Dinh District, Ha Noi on October 6-11.