Hoang Anh Gia Lai (HAGL) Group is considering closure of Hoang Anh Resort in Lam Dong Province's Da Lat because the property is involved in a lawsuit the group has filed against the provincial Finance Department, HAGL chairman Doan Nguyen Duc told reporters September 14.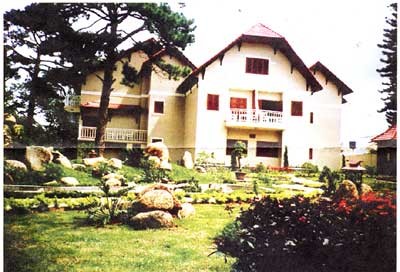 A corner of Hoang Anh Resort in Da Lat City, the central highlands province of Lam Dong
He said the closure plan would be considered carefully because it would affect over 200 employees at the resort.
 
The businessman denied a statement by Nguyen Van Yen, director of the provincial Finance Department,  that the group has yet to pay over VND2 billion of taxes.
Mr. Duc showed the group's records of tax payment in 2009, including taxes relating to the rent of land in 2009 and villas inside the resort until the third quarter of 2009.
 
He said Hoang Anh Gia Lai has not paid taxes afterwards because the province's relevant agencies decided last year to take back 11 villas that HAGL had leased from the provincial People's Committee to build the resort.
According to HAGL, the group began to pursue a plan to develop 20 old villas in the resort town of Da Lat into a four-star resort in 2002. It signed a contract with the provincial Finance Department to lease the properties, with a total area of nearly 46,000 square meters, for 50 years.
Fifteen of the villas were transferred to the company and construction work was finished on eight of them.
The province, however, decided to take back 11 of the villas on September 22, 2009 and assigned them to Trung Thuy Company in Ho Chi Minh City 19 days later.
 
According to the Finance Department, the decision was made because the resort project was delayed and the conditions of the villas had deteriorated.
The villas were supposed to be put into business no later than 12 months after their transfer. However, some of them had been left untouched for nearly three years, Finance Department director Yen had earlier said.
Responding to a statement that there were many injection needles at fallowed villas, meaning that addicts gathered there to use drugs, Mr. Duc said his group has no responsibility to the 11 villas after the decision to take back them was made, and management of them belongs to Trung Thuy Company or the local administration.
HAGL filed a lawsuit against the Finance Department on September 13, 2010.