The Phu An Investment, Construction and Infrastructure Development Company, part of the Khang Thong Group held a groundbreaking ceremony on February 14 for the Happyland Entertainment Complex in Thanh Duc commune, Ben Luc district in the southern province of Long An.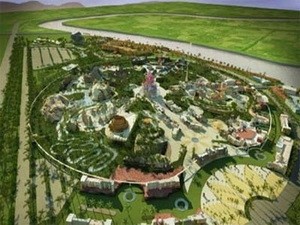 An artist's impression of Happyland in Long An Province
Addressing the ceremony, Deputy Prime Minister Nguyen Thien Nhan said that the project will contribute to the country's socio-economic development and preserve cultural identities, which will help to promote Vietnam around the world.
Sitting on a site of 338 hectares, the 2 billion USD tourism, trade and services complex is expected to open its doors in April, 2014.
Once completed, the project will generate 10,000 jobs in the local and neighboring areas and is estimated to welcome around 14 million visitors annually.
Joe Jackson, father of deceased musical legend Michael Jackson also attended the ceremony.