Vietfish, Vietnam's annual biggest fisheries exhibition, will take place in Ho Chi Minh City on June 28-30 with the participation of more than 190 international and local exhibitors, organizer VASEP announced Thursday.
Mr. Truong Dinh Hoe, general secretary of the Vietnam Association of Seafood Exporters and Processors (VASEP), told a press briefing in the city that Vietfish 2011, like in previous years, aimed to continue to promote Vietnamese aqua-products in international markets.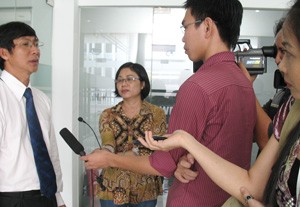 VASEP general secretary Truong Dinh Hoe (L) speaks to media about the 2011 Vietnam Fisheries International Exhibition during a press briefing in Ho Chi Minh City June 23, 2011 (Photo: Tuong Thuy)
He said the show would include more than 300 booths and a series of workshops such as Traceability for the Global Food Industry, organized by Trace Register LLC; Seafood Markets Watch; Ensuring Safety for Vietnamese Aqua-products to Access Key Export Market, organized by Tuv Rheinland Aimex Vietnam; Pond Aging; and Transportation Solutions to Reefer Containers from Mekong Delta to HCM City Ports and Transit to Cambodia.
The exhibition at the Saigon Exhibition and Convention Center in District 7 will feature exhibitors from Vietnam and other countries such as Thailand, Norway, Germany, Japan, the US, Chile, Indonesia, and the Philippines.
On the opening day, VASEP will launch a program to raise funds for fishermen operating in Vietnam's East Sea who are facing unsecured conditions caused by strangers. The association will also present certificates of merit to 49 outstanding export businesses.
VASEP's Hoe added that Vietfish 2011 is also the place for businesses to update the latest information about the seafood industry, such as new products and new technologies.
Vietfish is fully written as the Vietnam Fisheries International Exhibition.