Business and government delegates from India's northeastern region will begin a three-day meeting in Ho Chi Minh City February 12 to discuss increasing trade.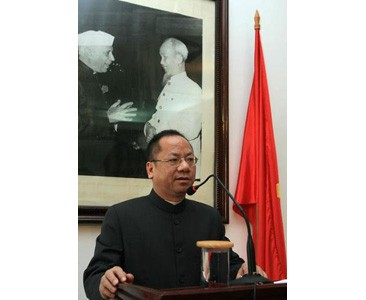 Indian Ambassador to Vietnam Lal T Muana
"If you look at the map, from the northeastern part of India, Vietnam is even closer than New Delhi," the Indian ambassador to Vietnam, Lal T Muana, told a press conference the previous day.
Geographical proximity, cultural similarities, and business potential are a foundation to build closer socioeconomic ties with Vietnam and other Southeast Asian countries, Mr. Muana said.
"Vietnam may not consider India a major market yet, but it is going to," he predicted.
Over 200 business executives and government officials from Vietnam and other Southeast Asian countries are attending the event titled ASEAN North-East India Investment & Trade Opportunities Summit.
A similar conference was held in Thailand two years ago and others are set to follow as part of India's "Look East" policy.
The conference in HCMC will focus on tourism, infrastructure, and agriculture as key investment sectors.
Last year trade between the two countries was worth more than US$2 billion, the target actually set for 2010, and a far cry from the $300 million in 2004, the diplomat said.
Indo-Vietnamese trade is expected to top $3 billion this year "despite the economic slowdown."
"We are not scared by the slowdown," Mr. Muana told the media, adding that trade would have been even higher last year but for delays in unloading cargo at HCMC ports.
Transportation constraints, such as the lack of direct flights, are a major challenge to further trade growth, he admitted, however.
Another is the general misperception that the Vietnamese and Indian economies are competing, not complementary, he said.
"Many Vietnamese exporters are not even aware of the Indian market," he said.

Vietnamese exports to India are just half that of Indian exports to Vietnam, he said, though the Indian population is 12 times larger.
China, on the other hand, exports more to India than it imports though the Chinese market is bigger, he pointed out.
"If China can do it, Vietnam can too."
India would soon sign a free-trade agreement with ASEAN and a bilateral deal with Vietnam would follow afterwards, he said.