The city's outdated regulations on the operation of foreign businesses and traffic congestion were the main topics of talks between Ho Chi Minh City People's Committee Chairman Le Hoang Quan and 200 members of the European Chamber of Commerce in Viet Nam (EuroCham).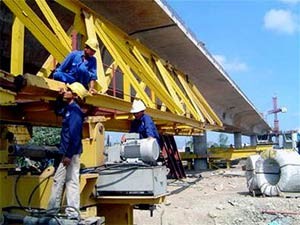 Thu Thiem Bridge which is expected to be operational next year will help reduce traffic congestion in the city

The dialogue chaired by Chairman Quan and EuroCham Chairman Alain Cany was held in the HCMC Sofitel Hotel on Tuesday.

Outdated regulations impede city's competitive advantages

EuroCham representatives began the dialogue lamenting the city's current regulations requiring foreign-invested companies deposit one percent of their wage bills into a labor union fund.

The regulation has been shown redundant as many companies have their own welfare funds accounting for more than one percent of their wage bills.

Yet the city's long-term plans call for union fee contributions will rise to two percent of the wage bills of both local and foreign-invested companies by 2010, in line with WTO requirements for equal treatment of domestic and foreign companies.

Increased union contributions on top of recent price hikes, it was claimed, would put entrepreneurs under even greater cost pressures and thus reduce their competitive strength, said Chairman Quan.

Representatives from EuroCham went on to ask about the city's policy on human resources. The city is facing a serious lack of skilled workers but its current policy limits the number of foreigners working for a company to three percent of all staff, an impediment to the operations of many developing companies.

Another regulation requiring foreign employees to be college graduates is also considered inappropriate as many companies find suitably skilled candidates who have no degree.

Mr. Quan noted companies in high-tech, healthcare and educational services can employ unlimited foreign employees but those in other fields must report to relevant agencies on their plan to hire foreigners.

The country is joining globalization and foreign enterprises are thus needed to transfer skills to the local labor force, Mayor Quan added.

Traffic congestion and parking shortages

EuroCham representatives also raised questions about traffic congestion and the city's lack of parking lots.

Chairman Quan said the city is facing an excess of all kinds of vehicles, one of the main factors behind its deteriorating inner-city traffic situation.

To curb traffic congestion, a number of traffic planning and management have been proposed, along with a budget of up to US$22 billion.

The city is to give top priority to some key traffic projects including the construction of two subway lines, the Phu My Bridge, the East-West Highway and the Thu Thiem Bridge which is to go into operation next year.

The city also has plans to build eight large-scale parking lots which are expected to be operational by 2013.

In response to EuroCham complaints of insufficient entertainment available in the city, representatives from the HCMC Tourism Department said the city's authorities will consider adjusting closing hours for local entertainment spots and allowing more venues open, to attract more foreign tourists and investors.

In his closing speech, Chairman Quan said twelve key questions from EuroCham representatives are seen as priorities for HCMC's development and the city will do its best to address them effectively.

According to HCMC Department of Planning and Investment Deputy Director Lu Thanh Phong, about 2,590 foreign-invested companies with total capital of US$16.6 billion are operating in HCMC, 268 of which belong to EuroCham with total investment capital of over US$1 billion and the European countries with the greatest investments in Viet Nam are England, France, Denmark and Austria.