Most of the traditional markets in Ho Chi Minh City have seen a steady decline of consumers, while supermarket chains have been flourishing with strong sales growth and a rising turnover of 15-25 per cent each year.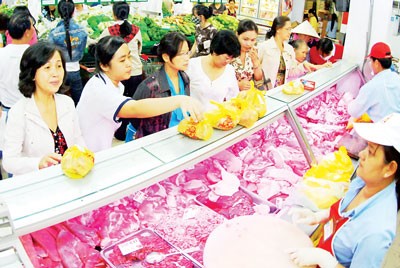 Consumers buy price stabilised goods in Cong Quynh Co-op Mart. (Photo: Sggp)
Supermarkets across the city have been attracting customers with well targeted promotional programmes and interesting prize offers.
The city has more than 200 supermarkets today, twice the number than in 2005. Smaller supermarkets have also creased four times in numbers. For instance, the Shop & Go supermarket chain has 47 outlets and Co-op Food has over 20 shops in the city.
Saigon Trading Corporation (SATRA) has invested in developing convenience stores called Satramart in the city since 2011.
Vissan Food Processing Company has been successful in developing nearly 80 grocery shops.
Meanwhile, the city has at present about 200 traditional markets, a serious drop from 300 markets in 2005.
The modern shopping pattern that includes trade centres, convenience stores and supermarkets has grabbed 35 per cent of the total retail market.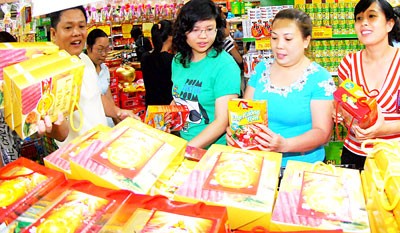 Shoppers at a Vissan grocery store. (Photo: Sggp)
According to a market research, consumers in the city spent an average of VND1.5 million in supermarkets in 2011; VND627,000 in 2005 and VND1.419 million in 2010.
Supermarkets have attracted and met the demands of shopaholics with their convenient and stable prices, diversified goods, safe and healthy food products, eye-catching displays, promotional programmes and various services such as home delivery, online selling and card payments.
Supermarkets also develop and sell their own brand of goods at prices that are cheaper than the market price.  Co-op supermarket chain provides more than 500 commodities at a cheaper price, by 5-10 per cent.
Big C supermarket has cooperated with around 50 enterprises to produce its own brand of goods and sell at a cheaper price, by 5-30 per cent.
Vietnam has many opportunities and potential for world retailers. Legalities are not the obstacle but the problem lies in high rentals of commercial properties, said Pascal Billaud, Director General of Big C Vietnam.