Ho Chi Minh City has set targets to boost more export growth and restrict imports this year, with focus mainly on key export items.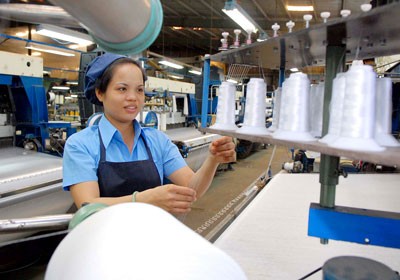 Workers of Thai Tuan Textile and Garment Company  (Photo: SGGP)
Huynh Khanh Hiep, deputy director of the Department of Industry and Trade in HCMC, said plans are in place to strengthen production and export competitive items such as mechanical, nano and soft ware products.

To achieve this, City leaders will boost trade promotion between the City and the Ministry of Industry and Trade, open new markets and improve export turnover.
Along with this, the City will focus on exploiting the traditional market, major markets and develop more markets at border crossings of Laos, Cambodia and China.

Enterprises are being encouraged to expand scale of operations, improve production technology and technology transfer with foreign counterparts. Firms are also being encouraged to use domestic-made materials to limit imports.

At the same time, synchronized measures should be conducted to increase exports of agro-aqua products and tighten imports.
Enterprises should rearrange production, enhance productivity to improve quality and decrease price, to meet fierce competition.  Meanwhile the government will review and change inappropriate policies and mechanism, and reduce taxes to help enterprises survive in the global economic crisis.

The City will organize fairs and meetings between local firms and foreign counterparts to help enterprises reduce inventory.

The City estimates that export turnover will thereby reach $34 billion, an increase of 13.5 percent. If crude oil export turnover is excluded, turnover will be $24.2 billion, a year-on-year increase of 12.2 percent.

The domestic sector will account for 70.2 percent of the entire turnover or equivalent to $23.88 billion, an increase of 13 percent against last year while the foreign investment sector will reap $10.12 billion, a year-on-year increase of 14.6 percent.