Concerns of rapid rises in export duties and complex customs formalities were raised at a meeting between the Ministry of Industry and Trade and foreign-invested companies in the South on December 4.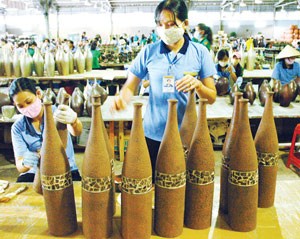 Workers of a company in HCM City produce ceramics for export (Photo: SGGP)
Most businesses reported a sharp decrease in their companies' exports over the last two months, with some suffering drops of 30-40 percent and projections of 50-60 percent next year.

A downturn in the global economy has led to cuts in consumer spending which has affected business though many have blamed inappropriate export policies, including tariffs and bad management of Customs and Tax sectors.

Ms. Tran Thi Que Minh, chief accountant of Hoang Tiep Vietnam Co., specializing in white sand and quartz, said that that on January 1 this year, the Ministry of Finance imposed an export duty of 7 percent and on April 22, the rate was raised to 12 percent.

She complained that the increase of export duty had been unexpectedly imposed on the company's products without advanced notification. Her company only received official ministry notification 30 days after the rate rise.

"Besides paying back-tax worth tens of billion dong," said Ms. Minh, " we had to pay a fine to Customs as our customs declaration was declared using the old rates. We were fined, but it was not our fault."

Ms. Minh also emphasized that sudden rises in export duties led to cancelled orders from Malaysian and Japanese business partners. Ms. Minh said, "Export duties rise rapidly and we have to raise the export prices of our goods accordingly, but our customers find it difficult to easily accept adjusted prices."

According to Ms. Minh, a new tariff of 12 percent has also been imposed on high-grade processed and unprocessed crystal sand. Ms. Minh said, "It's unreasonable to apply the same export duty rate to two kinds of products that have different product quality."

Mr. Nguyen Chien Thang, head of the import – export department of Hyundai Aluminum Vina, which produces aluminum ingots, shared similar views. He said that inappropriate tax policies have badly affected the company's production.

Mr. Thang said the ministry's September 29 decision, imposing export duties on exported goods made from imported raw materials, has led to back-taxes of hundreds of billion dong and the closure of plants as the company has been prevented from exporting."

In response to problems raised by participants, Mr. Vu Khac Liem, deputy director of the Tax Policy Department at the ministry, explained that the Ministry of Finance is cutting export tariffs on a number of goods in accordance with Vietnam's WTO commitments.

He said some mistakes have arisen during the adjustment process and asked companies to report all difficulties they have met in their export activities in writing and send the reports to the ministry for consideration.

Mr. Nguyen Xuan Thuy, of MTEX Co., located in the Tan Thuan Export Processing Zone in HCM City, complained of complicated customs formalities, such as gaining VAT exemptions for locally-made goods when they are supplied to companies in the EPZ.

After listening to the issues raised at the meeting, the deputy Minister of Commerce and Industry, Nguyen Thanh Bien, pledged that it will work with relevant authorities to iron out problems to help boost exports and stabilize the country's macro-economy.

Foreign-invested enterprises have reported that exports for the first eleven months of the year have reached US$23 billion, 40 percent of Vietnam's total exports. Estimated figures suggest an increase of 42-45 percent next year, equivalent to US$30-33 billion.