Viet Nam's entry into the World Trade Organization is a great opportunity for the country's economic development. However, challenges will inevitably follow. The electronic industry is not an exception, so who will be and not be profitable from it?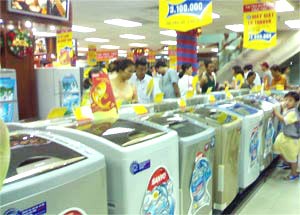 Sai Gon – Nguyen Kim home appliance store in Tran Hung Dao Street is crowded with customers on year-end days (Photo: K.Kh)
A number of well-known brand names of home appliances such as Sony, Samsung, Panasonic, Toshiba and LG have been present in Viet Nam for a rather long time and have had their market shares.

For them, Viet Nam's WTO membership is not a new challenge; on the contrary, they are waiting for opportunities to come.

It's not by chance that producers have continuously launched new models on Viet Nam's market since the end of last year. It's not simple a price and technological competition, but it's their advanced preparation for the country's WTO-entry.

Those joint-venture companies have tried to take advantage of investment incentives and low labor costs in Viet Nam as well as in other Southeast Asian countries compared to the rest of the world.

Home appliances with several new models are flooding Viet Nam. The Viet Nam's electronic market can be said to be abreast of the regional and world markets.

Nowadays, Vietnamese customers can afford high-quality home appliances such as LCD and plasma TV sets with famous brand names like Vierra, Bravia and Time Machine thanks to competition between producers.

For some products, the customers can enjoy big sales, about 30-50 percent off.

Some said the prices might be lower as the import tariffs imposed on home appliances will be reduced to meet Viet Nam's commitments to the WTO. But it is not the reason as the tariffs were already reduced when Viet Nam started to implement its trade commitments to the ASEAN Free Trade Area two years ago.

Therefore, the big foreign home-appliance producers have competed equally in Viet Nam's market.

Meanwhile, local producers are worried about the fierce competition which the country's WTO membership might bring about. They might not be able to compete against foreign produces in terms of finance and technology.

If they know how to make full use of their capacity in making spare parts and accessories, they can survive.

Some are not sure whether to cooperate with foreign partners or to operate in the new environment as the country just became a WTO member.