As many as 1,100 villas and attached houses across 11 projects are scheduled to hit the real estate market in the first and second quarter of 2015, said Savills Vietnam, the largest property company in the country, on January 8.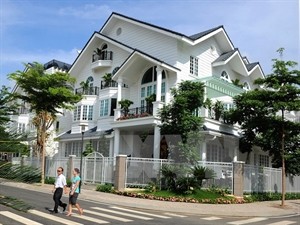 The high-end villa area Saigon Pearl in Binh Thanh district (Photo: VNA)
A total of 53,000 houses from 138 projects will be available for purchase in the next eight years, a Savills representative said, attributing their thriving business to reasonable prices and financial support provided to buyers.
The fourth quarter of 2014 witnessed a flourishing real estate market, with 990 new houses for sale in District 2, District 9, and Binh Chanh District, a 43 percent increase from the previous quarter.
Overall, the retail space market fared well in the last three months of 2014, according to the head of Savills Vietnam's Research and Consultancy department Nguyen Khanh Toan, adding that although supply has increased, average occupancy has remained steady at 92 percent, indicating increasing demand.
In 2014, the municipal retail space market recorded 655 trillion VND (31.2 billion USD) in revenue, an annual increase of 12.5 percent, Toan revealed.
He also predicts 1.3 million square meters from 62 projects will become operational in the retail space market, of which 65 percent will be in District 7.-VNA