The suggestion on lifting the regulation of stamping some commodities has just been agreed by the anti-contraband forces of the Customs, the Market Control Department and the Police.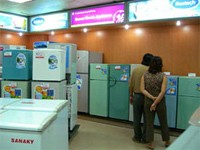 Refrigerator, one of the commodities, will no longer be stamped.
Commodities are no longer stamped, among which are bicycle, bicycle frame, ashlar paving brick, interior shiny glass of thermos, wash-basin, refrigerator, and gas stove, etc.
The lifting is made because those commodities can be produced domestically and they are no longer smuggled in bulk into Viet Nam's market
In addition, the anti-contraband forces have proposed methods of solving some contradictions and limitations of the policy on anti-smuggling, aiming to enhance efficiency of their work.
For instance, the increasing demand of sugar in the country has recently caused a price hike. However, the Government tried to limit sugar import by a high tariff. That is the reason why sugar has been smuggled since early 2006.