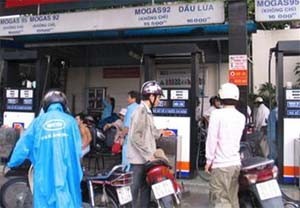 A gas station in HCM City. The government has decided to reduce the import tax on petroleum products from 35 to 25 percent as global oil prices have begun to go up again. (Photo: Tuoi Tre)
The government has decided to cut the import tax on gasoline and other oil products from 35 percent to 25 percent with effect from February 10. 
Leaded and non-leaded gasoline, jet fuel, naptha, and solvents like light oil and engine oil, will all attract 25 percent tariff.
The tax cut comes at a time when world oil prices are slowly recovering.