India and Viet Nam have organized the fourth Indian Textile Exhibition and Buyers-Sellers Meet to be held in Ho Chi Minh City from August 30-31, aiming to provide business opportunities and strengthen trade between the two countries' textile and garment industries.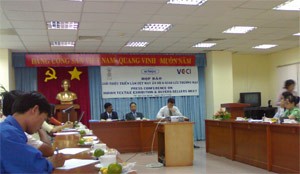 At the press conference (Photo:KK)
The event will be held at the Rex hotel, hosted by the Indian Government's The Synthetic & Rayon Textiles Export Promotion Council (SRTEPC) and the Viet Nam Chamber of Commerce and Industry (VCCI).
Twenty-one leading Indian garment and textile companies will take part in the exhibition to display their latest range of yarns, fabrics and ready-made items including scarves, stoles and hand-embroidered products.
The exhibition will reveal the growing capabilities and wide range of products Indian companies wish to offer Vietnamese enterprises.
It will be a good chance for Vietnamese enterprises to learn about Indian fabrics and other textile materials in order to cater to the demands of the Vietnamese garment industry.
India is the world's fourth largest producer of man-made fiber and exports to more than 176 countries worldwide, especially the European Union, the USA and the Middle East.