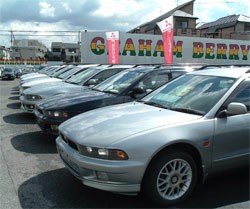 The price of used autos in foreign market are very low, even for free.
In the press briefing, officials of four ministries have affirmed that it is not necessary to impose quotas on imported used cars as the regulated standards are strict enough.
Deputy Minister of Trade Phan The Rue said that businesses should enclose strict regulations on payment and quality into the import contracts.
For example, consignees will ask sellers to present the inspection reports at departure port, or request a certificate of quality issued by the appropriate Vietnamese agency when the shipment will arrive at Vietnamese ports.
According to Deputy Minister of Finance Truong Chi Trung, the after-tax price of a used vehicle is 70 percent of a new domestically-produced one, making a grueling competition between imported and locally produced cars.
In addition, the Ministry of Finance can raise or lower the tax rate by 20 percent after considering the situation. The rate will be adjusted lower after 3-5 years in line with the integration commitment.
Used car market is getting hot
"We have sold four used car in just two days," said a representative of Hung Cuong Limited Company in Ha Noi.
After the fixed tax rate was promulgated, the demand for used cars of the domestic market has increased, but the price of imported used car is not as low as expected.
However, local businesses cannot predict the used car market after May 1, 2006.
But they assume that the market will become very competitive because many individuals are now trying to import their overseas relatives' used cars. They will not be afraid of high tax rate due to the very low import price, even for free. With individuals allowed to import used cars, the domestic market will be very busy.
Currently no import-export companies offer the import service of used cars for individuals.
According to Mr. Bui Huy Thuc, Branch Manager of Hai Phong Techno-import, used cars imported to Viet Nam are of a fairly high-grade.
According to Deputy Minister of Trade Phan The Rue, imported used cars will be "redoubtable competitors" of domestic ones due to their high assembling standard. It was agreed by the Vietnamese automobile manufacturers. Officials of the Ministries of Trade and Finance are worried about the competition with imported used car.
Related Articles:

Foreign Used Cars Hunted by Vietnamese
Tariff on Imported Used Cars to Be Promulgated
Guidelines on Importing Used Cars