Indonesian food firm PT Tiga Pilar Sejahtera Food Tbk (AISA) plans to pour US$80 million into Vietnam and Malaysia to purchase stakes in two food companies this year.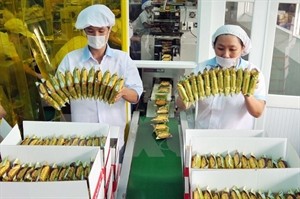 Food packages are boxed up (Photo: VNA)
AISA's move aims to help the firm become a regional player in the industry.
According to The Jakarta Post, AISA Finance Director Sjambiri Lioe said that they had set a target of acquiring a 90 to 100 percent stake in a Vietnamese food company and a majority stake in a Malaysian food company.
He added that his firm's negotiation with the Vietnamese partner will be completed soon, and that the negotiations with the Malaysian firm were still at an early stage.
Lioe declined to reveal the names of the two companies, but disclosed that one of them is a biscuit manufacturer. He also said that AISA will sell the products of the company in Indonesia, and still maintain its share in that country.
AISA, founded in 1990 and based in Jakarta, was originally only engaged in the food business (TPS food). In 2008, it entered the business of oil palm plantations (TPS Agro), and at the end of 2010, started a rice business by acquiring a local company.