Dau Tu Tai Chinh Newspaper has caught up with gold experts to interview them about the constantly surging price of the precious metal.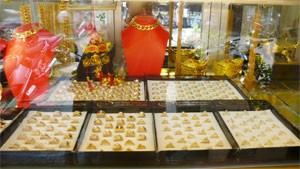 Gold is the safest haven during difficult times (Photo: Phan Hien)
Tran Trong Quoc Khanh, director of the gold trading center ACB
Gold has increased by 25 percent so far this year. The increase looks set to rely on many factors, including the US's bond-buying, known as quantitative easing, or QE3.
The precious metal will definitely continue its winning streak if the US government achieve the approval for QE3.
Therefore, investors worldwide are rushing to buy gold.
In Vietnam, investors are favoring bank's saving and gold since the stock and property markets remain stagnant.
Gold traders have enjoyed a booming profit margin of 25 percent so far this year, significantly higher than the saving rate of around 14 percent per annum.
In my opinion, cautious investors should opt for depositing their money into banks, while traders with strong idle funds, who favor quick profits, can pump into the yellow metal.
Financial expert Nguyen Duy Lo
Gold price is unexpected, but it obviously follows the US dollar. As the greenback looks set to get weaker due to the US's public debt, the precious metal is still the top pick of international investors.
However, gold investments carries high risk of losses as gold price can slump on a heavy profit taking.
In Vietnam, gold transactions have recently made by high-income earners only, who have already held some amounts of gold. They have sold out or wait for the market to make corrections to buy more.
Low-income earners and retirees, meanwhile, still opt for bank's deposits as they cannot afford gold due to too high prices.
Dr. Le Xuan Nghia, vice chairman of the National Financial Supervisory Commission
Gold usually moves up on surging demand for jewelries at the end of the year. Gold price this year is strongly boosted by news about the US and Europe's economies.
Especially, central banks around the world – including Mexico, Thailand, Korea and China – have bought tens of tons of gold, encouraging investors to strongly believe price of the precious metal will increase further.
Vietnam's gold rises on the soaring global price and the deficit of domestic supply-demand, while local trading results in no effect to the local price.
I expect that buying of the precious metal will not too strong as traders get cautious after cashing in on the sharp increases.