Regulations on issuing customs priority cards for enterprises in finishing formalities are being made by the General Department of Customs. As planned, to have priority cards, businesses have to achieve export turn-over of at least US$ 100 million or pay VND150 billion in tax with 1,500 customs declaration forms last year.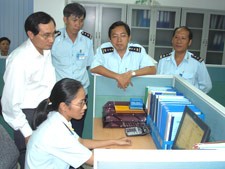 Customs officers direct people to do formality( Photo:T.C)
With this card, enterprises can complete customs formalities across the country. The card will be valid for twelve months. Especially, those enterprises owning its international brand name or selected by the business association would be granted the card although they have engaged in import-export business less than 365 days.
The enterprises with the card enjoy preferential treatment such as their goods will be exempt from inspection, getting customs clearance immediately.

Related link:
- Customs to Offer "Super Priority" Cards