Total foreign direct investment (FDI) in Vietnam surged 67.1 percent to U$$ 664 million in January, up from a year ago, the Foreign Investment Agency reported on January 26.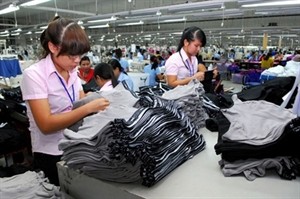 Workers put the final touches on clothes at French-owned Scavi Hue Garment Company in Hue (Photo: VNA)
Of the total, US$ 505 million has been disbursed, reflecting an 8.6 percent year-on-year growth.
During this period, the country also licensed 44 new FDI projects worth a registered capital of US$ 392.18 million, up 85.5 percent against the same period last year. Another 19 existing projects were also licensed to add a registered capital of US$ 271.26 million, up 45.8 percent.
Foreign investors in January poured capital into 11 industries, of which processing and manufacturing were considered the most attractive, with 18 projects drawing a total of US$ 605.69 million. The industry accounted for up to 91.3 percent of the country's total FDI in January.
Retail and repairing; and water and power production and distribution industries followed with US$ 30.79 million and US$ 10.44 million, respectively.
In January, 15 countries and territories channelised capital into Vietnam, of which the British Virgin Islands topped the list with US$ 331.32 million, accounting for 49.9 percent.
The Republic of Korea (RoK) and Hong Kong ranked second and third, with US$ 110.25 million and US$ 105.5 million, respectively, representing a 16.6 percent and 15.9 percent share.
Among the 13 cities and provinces receiving FDI in January, the southern economic hub of Ho Chi Minh City was the most attractive destination, with its 24 projects worth US$ 347.2 million, representing a 52.3 percent share. The southern province of Binh Duong and the northern port city of Hai Phong also reported FDI of US$ 100 million and US$ 96.72 million, respectively.
FDI in Vietnam is forecast to increase significantly this year as many large-sized FDI projects, such as the US$ 22 billion worth Victory Nhon Hoi oil refinery complex, are expected to get licences.
Experts said licensed projects worth billions dollars have so far helped Vietnam attract many other supply projects, which are in accordance with the Government's sustainable growth strategy with investment encouragement extended to high-technology, added value creation for exports and the supply industries.
Bac Ninh, for example, has so far successfully attracted many international giants in the high-tech industry, such as Canon and Sumitomo of Japan, Samsung of the Republic of Korea, Foxconn and Mictac of Taiwan (China). It has also drawn investment from Tyco Electronics of the United States, ABB from Sweden and Nokia from Finland.
The northern port city of Hai Phong has also created a hub for attracting heavy industry projects worth hundreds of millions of dollars from GE, Kyocera, Bridgestone, Fuji, Xerox and Toyota.
Experts also forecast that Vietnam will possibly step up FDI in 2015 as a result of the advantages offered by FTAs, which were signed in 2014.
Vo Tri Thanh, the Deputy Director of the Central Institute for Economic Management, pointed out that signing three free trade agreements with the European Union, the RoK and the Customs Union of Russia, Belarus and Kazakhstan, will offer great advantages to Vietnam and help it attract FDI in the short run.