Japan is the largest investor in Vietnam with 2,237 investment projects and total registered capital of US$35.38 billion as of March 2014.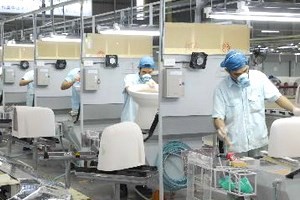 Production at Japanese-invested Inax Viet Nam Company (Photo: VNA)
Average capital of a Japanese project is US$15.8 million, higher than the average of foreign direct investment projects in Vietnam, which is US$14.58 million.
Japanese companies invested in 18 out of Vietnam's 21 economic zones.
Of the 18 invested zones, the processing and manufacturing industry has 1,213 projects with total registered capital of US$29.82 billion. These account for 54.2 percent and 84.3 percent of total projects and capital.
Vietnam has investments from 101 nations and territories.