Japan has opened its doors to Vietnamese agricultural and aquatic produce, a Government minister has said, referring to a recent bilateral pact.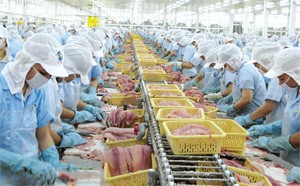 Workers at Nam Viet Company in Can Tho process catfish for export (Photo: SGGP)
It gives exporters a great opportunity if they deliver on food safety, hygiene and quality, Industry and Trade Minister Vu Huy Hoang said.
Japan and Vietnam signed an economic partnership pact in Tokyo on December 25 with a promise to scrap, within a decade, import tariffs on around 92 percent of goods and services traded between the two nations.
It means 7,264 of 9,111 products Vietnam exports to Japan will be exempt from import tax.

On lobster and tiger prawn, which now attract rates of 10-15 percent, the tariff will be eliminated soon after the agreement takes effect early next year once the two countries wrap up domestic ratification.
With tariffs at zero, Vietnamese products can hope to compete against rivals from other countries.
Vietnam's seafood exports to Japan were worth US$785 million this year, and this is expected to go up to $1 billion with the tariff waiver.
Phan The Rue, a former deputy trade minister and head of the team negotiating the deal with Japan, said tariffs on 86 percent of agricultural, forestry and aquatic produce and 97 percent of industrial goods exported to Japan would be scrapped.
With Japan being Vietnam's biggest buyer of agricultural produce, this would boost exports, he said.
But in order to enter Japan, Vietnamese products must meet rather high standards on food safety and hygiene, he added.
For instance, all seafood exported to Japan has to be tested for antibiotic residue. Some exporters do not possess modern equipment to test their products and could face difficulty in breaking into the Japanese market.
But Japan has agreed to assist Vietnam meet these requirements by helping it set up a comprehensive quality standard system and training personnel in testing for food safety and hygiene.
Mr. Hoang said Vietnamese enterprises also need to carefully study the Japanese market and regulations to avoid rejection.
Japan is Vietnam's third largest economic partner, second biggest importer and largest FDI source.
In the first 10 months this year, bilateral trade was worth US$14.4 billion. It is expected to top US$16 billion for whole the year though a target of US$15 billion was set only for 2010.
Vietnam and Japan began negotiations for the agreement in January 2007 and wrapped them up last October after nine rounds of talks.
The signing of the pact took place at a time when the two nations are celebrating the 35th anniversary of the establishment of bilateral diplomatic ties.