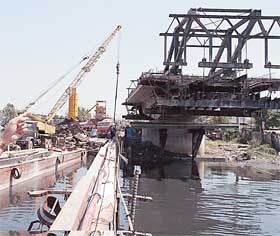 JBIC loans will support bridge construction in Viet Nam
The Japan Bank for International Cooperation (JBIC) has agreed to loan Viet Nam 88.32 billion yen in the fiscal year 2005.
JBIC Governor Kyosuke Shinozawa and Viet Nam's Deputy Finance Minister Le Thi Bang Tam signed the agreement in Tokyo on March 31, 2006.
The lending is used for nine development projects in Viet Nam: the construction of Ninh Binh thermo power plant, rural infrastructure development, rejuvenation of Ho Chi Minh City's water environment, medical equipment at provincial and regional hospitals, irrigation works in Binh Thuan Province, construction of Thanh Tri and Nhat Tan bridges in Ha Noi, Ha Noi's wastewater treatment, and assistance for post graduates in information technology and telecoms.
Related link
JBIC