On the occasion of the 1,000th anniversary of Thang Long – Hanoi, the Jetstar Pacific implements a promotion program to offer 1,000 cheap tickets at price of VND100,000 (US$5) each from September 9 to October 10.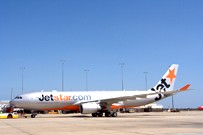 A flight of Jetstar Pacific Airline
The program named "Rong may man" (lucky dragon) will run during five weeks with 200 cheap tickets to be sold for each week on the website:http//www.jetstar.com.
Jetstar Pacific will announce the time cheap ticket available on its website.
Tickets can be paid for online by credit cards, such as Visa, Master Card, and by domestic debit cards, such as Connect 24 (Vietcombank), E- Partner (Vietinbank).
The ticket price is sold at VND100,000, not including tax and other additional fee.
Earlier, the airlines sold nearly 6,000 cheap tickets as apart of a celebration of Hanoi's millennium anniversary in October and to stimulate air travel in the low season.
  
Jetstar Pacific is Vietnam's first low-cost carrier and offers both domestic and international flights.