The Sai Gon Giai Phong newspaper held a seminar on April 4 about advantages for and challenges faced by Viet Nam when becoming a World Trade Organization (WTO) member. Many issues were discussed and measures suggested for the preparations.
Benefits from WTO

Vo Han Lam, chief of the economic department of the Sai Gon Giai Phong, said joining WTO would boost Viet Nam's development because WTO is the world's biggest trade organization. It has 150 member countries and 29 observer countries.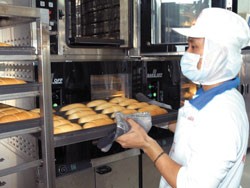 Kinh Do Corp. has installed new equipment to make quality cakes. This is a way to raise its competitive capacity. (Photo: Duc Thanh)
Saigon Trading Group general director Huynh Van Minh mentioned four advantages. First, joining WTO ensures normal trade relations with other countries and Viet Nam will be able to avoid trade barriers.
Second, as a WTO member, Viet Nam will be able to take advantage of WTO rules in trade and investment to boost exports.
Third, WTO membership forces companies in Viet Nam to improve their competitive edge in the domestic market.
Fourth, via cooperation programs among WTO members, Viet Nam will be able to develop its human resources and approach new technologies to increase the competitive capacity of the whole country, each enterprise and product.
Dr. Tran Du Lich, chief of the Ho Chi Minh City Institute of Economics, said Viet Nam put its total export revenue at more that US$32 billion last year but the figure was too small compared with the world's trade value of US$75 trillion. He said when Viet Nam joins WTO, Vietnamese enterprises will get more opportunities to deal with overseas markets.
Dr. Lich compared joining WTO with learning how to swim: "If we don't jump into a lake, we never learn how to swim."
Challenges
Viet Nam will face stiffer competition from the world market after becoming a WTO member, said Dr. Nguyen Quoc Vong from the Gosford Horticultural Institute, New South Wales, Australia. The scientist said overseas markets have strict requirements for the quality and safety of goods, and farmers with small-sized production or not using high technologies will lose the game.
Saigon Trading Group's Minh said a current challenge is, that even in the Vietnamese market, Vietnamese enterprises have not set up many partnerships between producers and traders, between State-run enterprises and businesses of other economic sectors, between domestic and foreign trade.
He said the fact that retailer Metro Cash & Carry has succeeded in doing business with both producers and traders to distribute goods is a good lesson for reference. State-run enterprises need a shake-up in management, technology and business plans, he added.