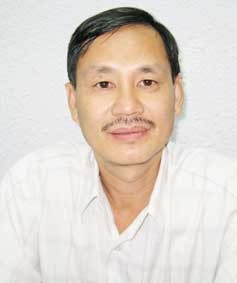 Duong Van Be Hai, chairman & managing director of Cuu Long Market Investment Joint Stock Company.
Duong Van Be Hai, chairman & managing director of Cuu Long Market Investment Joint Stock Company is a highly successful and respected man at the early age of 42.
However, only few know of his painfully poor childhood and years of ceaseless struggle to achieve his present status. Today his contributions are recognized in his pioneering work at building many major markets in the Mekong Delta. As a result, he is known in the west of Vietnam as the King of markets.
Duong Van Be Hai has childhood memories full of images of traders shriveled up in dilapidated market places. At that time, his young and innocent mind wished there could be a more decent market place for them. He was born in a poor family in Hau Giang Province. When he went to the market with his mother this sight of traders working in dismal surroundings remained engraved in his mind.
He worked for a while in Ho Chi Minh City after graduating from university, but his heart and mind remained in the Mekong Delta region. In 2003, he returned to Can Tho to look for ways and means to fulfill his dream of improving market conditions there. When the Government allowed private companies to build and develop markets, he did his research and learnt as much as he could from people already experienced in market trade. He then invested some money and along with the Can Tho City Investment and Construction Joint Stock Company he decided to build some big markets in the Mekong Delta, which included the An Binh and An Hoa markets in Ninh Kieu District in Can Tho City and Vi Thanh Market in Vi Thanh in Hau Giang Province.
In 2009, he established the Cuu Long Market Investment Joint Stock Company which mainly builds and develops markets. He also upgraded and repaired the central market in Nga Bay Town, Hau Giang Province with a total investment of VND5 billion. He is currently building several major markets in the centre of Can Tho City, like the Xuan Khanh Market in Ninh Kieu District, An Thoi Market  in Binh Thuy District and O Mon Market in O Mon District, all at a total cost of VND50 billion.
He claims that building a market is like building a pagoda and you can only succeed if you are sincere about it. He follows certain rules and criteria in building a market, like hygienic and safe conditions and pleasant and orderly surroundings.
After renovating or building new markets, he also proposed to local authorities to reduce tax remissions for traders as it was his belief that tax remissions promote development without the Government suffering a loss.
During recent months, Mr. Hai has faced public criticism for taking up the task of renovating the age old and cramped Xuan Khanh Market in Can Tho City. Not only has this move angered traders who were displaced to a temporary marketplace, but also irked many residents living around the temporary market. They stormed into his office to vent their anger but he calmly explained his plan to them and they finally were relieved and returned to their homes.
Memories of his destitute childhood have been the motivating force behind him and although he can invest in building super markets and shopping centers, he prefers building markets to help thousands of traders improve their means of living.
He remembers that his parents were so poor that he had to move to Can Tho to live with his grandmother, who sold fish in Tham Tuong Market to feed her family. He proposes to request the People's Committee of Can Tho City to rename Xuan Khanh Market to Tham Tuong in memory of his grandmother.
Mr. Hai currently lives in Ho Chi Minh City with his family but he chooses to invest in building markets in the Mekong Delta. His passion to build markets continues to remain undiminished.