A lack of information, communication and administrative problems, and unattractive incentive policies are limiting investment of companies from the Republic of Korea (RoK), despite its leading position among investors in Viet Nam, according to Korean participants at a discussion with relevant Vietnamese agencies in Ha Noi yesterday.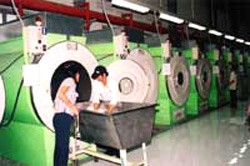 Workers operate an industrial washing machine at Korean-invested Doo Sol Vina, located at the Tay Ninh-based Trang Bang industrial zone
During the discussion, Korean companies and trade agencies informed of the difficulties they have encountered, focusing on those in land use registration, cash payments, material import-export, administrative procedures and costs, as well as intellectual property violations and poor infrastructure.
Park Keun Huyung, senior deputy director of the South Korea Trade and Investment Promotion Agency (KOTRA) in Ha Noi said some costs have been increasing, like land rental fees in industrial zones.  
 
He gave an example that the land rental fee in industrial zones near Ha Noi climbed by 60 percent early this year, up US$42 for each 45 per square meter per year.
 
Korean companies also voiced their concern that Viet Nam's regulations on increasing minimum salary at foreign-invested enterprises, which will take effect as of January 1, 2008, will also contribute to raising production costs.
 
Nguyen Xuan Trung, deputy director of the Foreign Investment Department under the Ministry of Planning and Investment, admitted that inadequate infrastructure has been driving up investors' production costs in Viet Nam.
 
He said increasing land rental fees and higher worker wages for foreign-invested companies also add to costs. However, the cost is still comparatively lower than that in other countries in the region.
 
A representative from the Ministry of Labor, War Invalids and Social Affairs said the decision to increase salary is aimed at compensating workers for price hike. If compared with other countries, the payroll level in Viet Nam remains low, just higher than those in Laos and Cambodia.
 
Mr. Trung affirmed that the Vietnamese Government has introduced policies on site clearance and the allotment of land to foreign investors. 
 
Representative of Vietnamese relevant agencies agreed that Viet Nam has to strengthen protection of intellectual property and administrative reforms to create a good business environment for foreign investors.
At present, RoK is Viet Nam's largest investor with 1,800 projects worth US$12.7 billion. Korean investors are taking part in key industries in Viet Nam including the hi-tech industry, construction and real estate. By the end of November, Korean investors had poured US$3.9 billion into Viet Nam , ranking first in terms of foreign investment in the Southeast Asian country.