Kumho Asiana Group has started building a hotel and apartment block and a tire factory in southern Viet Nam with total investment of US$410 million, cementing its presence in the country.
The South Korean group's building arm, Kumho Engineering & Construction Co., broke ground on Wednesday afternoon for Kumho Asiana Plaza, a residential and commercial property at Saigon Square in the heart of Ho Chi Minh City.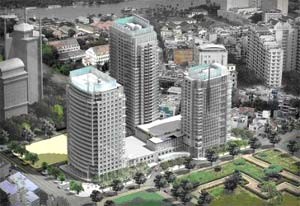 An artist's impression of Kumho Asiana Plaza
The company is investing US$260 million in the 21-story hotel and 32-story apartment block with close to 270 residences and plans on completing the three buildings by October 2009.
"Kumho Asiana Plaza is to greatly contribute to enhancing economic cooperation between South Korea and Viet Nam," Kumho chairman Park Sam-koo said. It "will be a symbol of Korea's advance into Viet Nam."
On Wednesday morning, Kumho Tires Co., South Korea's second biggest tire manufacturer, held a groundbreaking ceremony for a factory in Binh Duong Province adjoining Ho Chi Minh City with an annual production capacity of 3.15 million radial tires for cars.
The US$150-million plant will occupy almost 32 hectares of the My Phuoc industrial estate and should be completed in the first half of 2008. The manufacturer says the tires will be shipped to Southeast Asia and the United States.
The Viet Nam plant will be Kumho Tire's fourth factory outside South Korea. Before choosing My Phuoc, the company looked at several possible locations including Dung Quat in the central region, where the country's first oil refinery is being built, and Dong Nai Province next to Binh Duong.
In a press release last January, Kumho said the Viet Nam facility would "line up with Kumho's China factory in Jiang Chun, showing continual growth as a global company in the 21st century".

"Because of Viet Nam's political and social stability along with its vast workforce and geological resources, it is an ideal place for a manufacturing operation," the announcement quoted Kumho Tires president Sae Chul Oh as saying.
Viet Nam has drawn increasing interest from Korean firms. Among the South Korean companies submitting applications to invest in Viet Nam is Lee & Co. Development Ltd., which has expressed interest in forming a joint venture to develop a US$76.2 million property project in Ho Chi Minh City.