Vietnam's labour market in 2014 saw a surge in demand but a slight decrease in supply, according to an online human resources report released recently by the job website VietnamWorks in Ho Chi Minh City.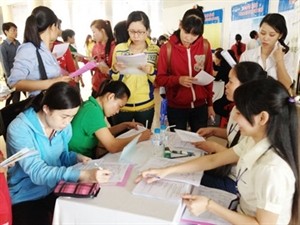 Job seekers fill application forms (Photo: baocongthuong)
Last year, labour demand soared by 38 percent while the supply fell by 1 percent from 2013, the report said, elaborating that each candidate had to compete with 48 others for a vacancy, down from 1/65 in 2013.
Employment opportunities were, however, not equally available for job seekers, especially new graduates, since almost vacancies required experience and trained qualifications, it added.
HCM City, Bien Hoa city of southern Dong Nai province, Mekong delta Can Tho city, central Dang Nang city, and northern Bac Giang province recorded the highest numbers of job hunters.
Accounting was the most sought job as each candidate had to beat 102. Jobs relating to paperwork, import-export, electricity, and electronics also saw fierce competition among seekers, VietnamWorks found.
Tran Anh Tuan, Deputy Director of HCM City's Centre for Forecasting Manpower Needs and Labour Market Information, said more than 40 percent of job hunters in the city in 2014 came from other localities, lower than the previous year.
About 18.6 percent of local workforce held a bachelor's degree, 2.8 percent graduated from junior colleges, and 9.9 percent underwent vocational training, he noted, forecasting that it will be hard for labourers to meet high requirements of the city's economic integration between 2015 and 2020.