Garment exporters are up against the wall since key buyers like the US and EU have not placed any orders and 70 percent of them only have orders for until March.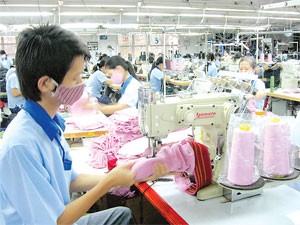 Workers at Garmex Saigon factory in District 5, Ho Chi Minh City making clothes for export to Japan. The apparel industry has seen orders dry up and many firms face possible bankruptcy (Photo: SGGP)
Exports have been worth US$1.15 billion in the first two months, a year-on-year decrease of 12 percent.
 
Orders for March have fallen 30-50 percent over the same period last year.
 
In the event, exporters have had to cut prices by 10 percent on many orders.
 
Doan Xuan Mai, general director of Binh Minh Garment JS Company, said enterprises are worried about their survival if importers inform them there are no orders for the moment.
 
Exporters are expecting orders for autumn and winter apparel, the major export items for the apparel industry.
 
Those who export to the US, which accounted for 55 percent of Vietnam's garment shipments last year, are in the worst shape.
 
Enterprises said many famous US brands and traditional customers have cut purchases by half in the first two months. 
 
Because of the devaluation of the euro, the value of exports to the EU has fallen.
 
Exports to Japan have increased since companies there that were importing from China have switched to Vietnam to enjoy lower tariffs following a bilateral trade agreement.
 
An official from the Saigon Garment Manufacturing and Trade JS Company (Garmex Saigon) said Japanese importers have doubled their buying from Vietnam. But the market, which accounts for 10 percent of Vietnam's apparel exports, is very choosy, he said.
 
Over two million workers in the Vietnamese garment sector face unemployment and lower incomes.
 
Seeking new importers
 
To remain in business, some enterprises plan to execute orders at cost for fully foreign-owned companies in Binh Duong Province, which have had plenty of orders. Though they will not make profits, their workers will not lose their jobs and it could throw up opportunities in future.
 
Clothes makers are also trying to export to other markets like Russia, Africa, and the Middle East.
 
Since Russia was a traditional export market in the 1980s, it may not be difficult for exporters to return there.
 
Some exporters said it is a potentially lucrative market, offering high prices despite not being choosy.
 
But Russian tariffs are very high -- at about US$20 per kilogram of clothes – and getting payments is difficult since the country's banking system remains poor.
 
The African and the Middle Eastern markets are also fairly open ones.
 
But Vietnam is unlikely to make inroads in Africa since Chinese clothes are cheap there.
 
The Middle East is a new market for Vietnamese exporters and to get a foothold they have to study the customs and tastes of consumers there.