Coffee production in the Central Highlands province of Lam Dong Province is forecast to decrease by 40- 50 percent from last year, according to coffee planters in Di Linh, Bao Loc and Bao Lam areas.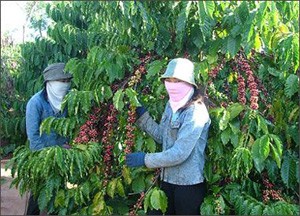 Farmers harvesting coffee in Lam Dong province.
Growers in Vietnam's second-biggest coffee-growing province blame fake fertilizer for the drop in production. The fake products killed many coffee plants, some of which were nearly 100 years old, and some farmers lost their entire plantations.
Le Quang Dao, General Director of Thai Hoa Coffee Company in Lam Ha suburban district said the low-quality and false fertilizers sold to farmers this year had affected the quality of coffee beans as well as the quantity of the harvest.
Many farmers in Di Linh and Duc Trong areas used NPK false fertilizer which made coffee plants drop their fruit or die.
Unseasonal weather and attacks by locusts also affected the harvest.
According to authorities, coffee planters have lost around VND180 billion from using the fake fertilizers.
Vietnam is the world's second-biggest coffee producer after Brazil.