Lao Cai and Bac Ninh provinces in northern Vietnam and Long An in the south are the top three in the country's Provincial Competitiveness Index (PCI) in 2011.
The Vietnam Chamber of Commerce and Industry announced the PCI in Hanoi Thursday.
The northern mountainous province of Lao Cai scored 73.53 points, followed by Bac Ninh with 67.27 points.
Ho Chi Minh City came 20th, while Hanoi ranked 36th. For the first time in the PCI history, neither Danang nor Binh Duong took the lead.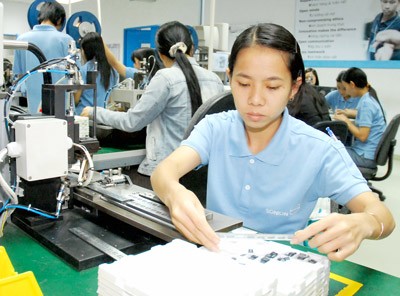 (Photo for illustration) Workers make telephone parts at a Ho Chi Minh City factory of Danish company Sonion (Photo: Kim Ngan)
The 2011 annual PCI was based on a survey of 7,000 domestic firms from all 63 provinces and centrally managed cities in Vietnam. The surveyed enterprises had contributed opinions on nine aspects of governance namely entry costs, land access and security of tenure, transparency and access to information, time taken for complying with regulations, informal charges, pro-activity of the provincial leadership, business support services, labor and training, and legal institutions.
Speaking at the PCI release in Hanoi Thursday, Dau Anh Tuan from the PCI research team said that transparency continued to be one of the surveyed aspects.
The PCI report raised a concern that personal relations continued to play an important role for enterprises to get access to information. Three-fourths of investors were of the view that relations with State agencies are a must to get access to information.
"It is not clear that why personal relations are more and more treasured but this discourages business people," the report wrote.
Remarking the report as a whole, Vietnam Chamber of Commerce and Industry chairman Vu Tien Loc said, "In the context of economic difficulties, positive business perception about provincial governance is a bright signal in the PCI report. We hope that from this message sent by the business community, the central and local governments will continue efforts to improve the business climate and enhance the competitiveness of the economy."
According to the report, foreign-invested enterprises did not appreciate corruption counter efforts by administration of different levels.