The leather and footwear industry posts the annual growth rate of 9.7 percent on average. Made in Vietnam shoes have been exported to 50 nations but met only 40 percent of local demand, approximating 150 million pairs a year, according to statistics by the Ministry of Industry and Trade.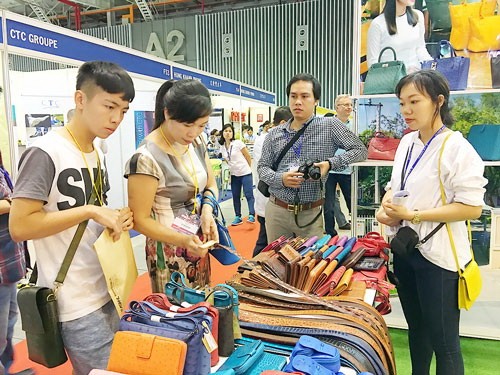 Customers choose Vietnamese products made of ostrich and crocodile skin (Photo: SGGP)
The main export markets of Vietnam are the EU, the US, Japan, China, Mexico, Brazil and South Korea.
Of these, exports to the EU hold the highest ratio with 35.3 percent, followed by the US with 31.55 percent, Japan 4.57 percent and China 4.46 percent.
Handbags have been present in 40 nations with the largest market being the US making up 41.6 percent. Exports to the EU account for 26 percent,  Japan 11.6 percent and China 3.51 percent.
Mr. Diep Thanh Kiet, deputy chairman of the Vietnam Leather, Shoes and Handbag Association (Lefaso) said that the industry's export turnover has been increasing year by year. It was $7.8 billion in 2011 and increased to $8.8 billion, $10.4 billion, $12.85 billion and $14.88 billion in 2012-2015.
Of the 2015 turnover, footwear reached $12 billion and hats, suitcases and umbrellas neared $2.9 billion.
In the first half this year, it was estimated to hit $7.94 billion, of which footwear brought $6.34 billion while hats, suitcases and umbrellas contributed $1.6 billion.
Vietnam is ranked among the top four footwear producers in the world and the third largest exporter in term of value after China and Italy.
Despite export strenght, businesses have not interested in local market because of strong competition from Chinese products which hold 50-60 percent of local market share now, said Lefaso chairman Nguyen Duc Thuan.
Domestic footwear consumption has mainly been in low and middle segments and production has met only 40 percent of demand. High grade Vietnamese products have been insignificant and inferior to large brand names in the world.
Moreover, local businesses have faced with counterfeits, and low quality and price products. Therefore, large firms have chosen the safe way of focusing on exports. Production for local consumption has mainly undertaken by small and medium firms.
A Lefaso representative affirmed that the association's members will still give priority to exports in short term to take advantage of tax incentives from the already signed ASEAN Economic Community and free trade agreements (FTAs).
This year, Vietnam-South Korea FTA will abolish the current export tax rate of 10-13 percent on Vietnamese footwear.
With the Vietnam and the Eurasian Economic Union (EAEU), Vietnamese footwear with rubber uppers will enjoy 0 percent tax rate when being shipped to Russia, Armenia, Belarus, Kazakhstan và Kyrgyzstan.
Vietnam-EU FTA will also reduce the existing 12.4 percent rate to 0 percent on handbags and suitcases from Vietnam right after taking effect. The EU will remove tariff on Vietnamese shoes within 7 years after the agreement becomes effective.
Most Vietnamese footwear products will see the tax rate drop from 13-14 percent to 0 percent thanks to the Trans-Pacific Partnership, opening a big opportunity for businesses to exploit American market.
Despite the positive signs, director of Khatoco Ostrich - Crocodile Business Company Nguyen Van Phong, said that Vietnamese businesses have mainly done outwork in the leather and footwear industry with material source depending on import.
Major products of the industry such as leather and leatherette have low localization rate and have gained small added value.
Local material supply has met 30 percent of the demand of leather and leatherette producers.
The Ministry of Industry and Trade has adjusted a plan to develop the leather and footwear industry by 2025 and vision till 2035.
According to the plan, a network of leather and footwear industry will be built across the country, production capacity will be distributed more reasonably among regions in the country.
The plan will supplement suitable and synchonous mechamisms and solutions on investment capital, science-technology and human resources to develop material source fast and sustainably.
It will also work to remove localities' policy of licensing restriction to material producers for the footwear and leather industry as they concern about environmental pollution.
Many businesses hope that the ministry will focus on assisting them to boost exports, have more effective solutions to create a fair competitive environment in Vietnam so that they can develop both foreign and domestic markets and speed up sustainable growth for the industry.