Manulife Vietnam launched its Vung Tau City sales office Monday, strengthening the Canadian-invested life insurer's presence in the southern province of Ba Ria-Vung Tau, Vietnam's hub for oil and gas exploration.
"Vung Tau has become an essential market for Manulife with significant business growth recently," Manulife Vietnam CEO Carl Gustini said during the office launch.
"In this market, we see the potential to grow even more by providing the Vung Tau population with Manulife's quality and forward-thinking products and services."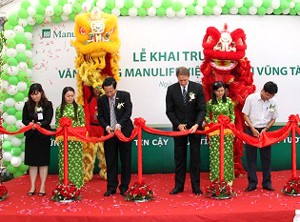 Manulife Vietnam executives launch the Vung Tau sales office in the city on June 20, 2011 (Photo: Thuy Hoa)
He said his firm has been expanding significantly in Vung Tau, with the number of agents in the area doubling as of the first quarter of 2011 over the same period in 2010. "With more agents and increased sales, a new sales office will provide a beneficial service to Manulife's expanding customer base," he said.
"We are glad to see our business expanding here. The growth indicates that our customer-centric approach works well and we will continue to work hard to raise the bar in terms of customer service and level of customer satisfaction."
The new office is located in the city's downtown, at the Petro Tower, 8 Hoang Dieu Street, Ward 1.
The beach city of Vung Tau is 130 kilometers by road east of Ho Chi Minh City. Its main industries include oil and gas, tourism, aqua-products and fishing. It is a hub of Ba Ria-Vung Tau Province.
Manulife Vietnam is this month celebrating its 12th anniversary. The life insurer says it has so far served more than 300,000 clients throughout the country. The current number of agents is 9,000.