Domestic and foreign retailers are racing for market share and premium space to set up operations as Vietnam prepares to open up its market completely in the new year as part of its World Trade Organization commitments.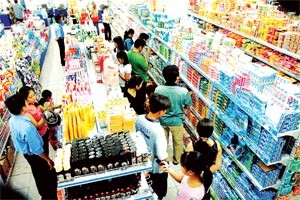 Shoppers at a Co.opMart supermarket in Ho Chi Minh City (Photo: SGGP)
Local retailers' preparations
The Ho Chi Minh City Commercial Cooperative Union is preparing to open four more Saigon Co.opMart supermarkets in Ho Chi Minh City and Ben Tre and Dak Lak Provinces this month to raise the number of its outlets to 34.
Nguyen Thi Tranh, the union's deputy general director, said it plans to have 100 outlets nationwide by 2015.
Two Co.opFood supermarkets would be opened in HCMC this month, Co.op Mart's first outlets to sell only fresh and processed foods, she said.
The union also plans to tie up with foreign investors to build modern shopping malls and with local companies to establish logistics networks across the nation.
In the north, Ha Noi Trade Corporation (Hapro) has quickly upgraded its supermarkets besides building dozens of new outlets.
Sai Gon Trading Group (Satra), Phu Thai Corporation, Vissan, Vinatex, Maximart and Citimart too have built more outlets in a scramble to grab retail market share.
Foreign retailers' penetration
Though Vietnam has yet to open up its retail market completely, it is familiar with global giants like Germany's Metro Cash&Carry, France's Big C Bourbon, Malaysia's Parkson, and South Korea's Lotte Mart, who have been here for varying periods.
Though it has just come, Lotte has already announced it will open 10 outlets in the next two years.
The UK's Tesco Group has yet to get a license, but it has been marketing itself for over a year now. It has already found premises in HCMC and Ha Noi, and is awaiting approval to begin construction of its outlets.
Best Carings, a franchise of Japan's Best Denki, will open its third outlet this month.
Dinh Thi My Loan, vice chairwoman and general secretary of the Association of Vietnamese Retailers, said the presence of global retailers shows the potential of the Vietnamese retail market.
Unequal competition
A representative of Phu Thai Corporation said the presence of Metro alone has squeezed domestic retailers out of the market. "What will happen if Tesco and WalMart [also] come?" he wondered.
Ms. Tranh said she is more anxious about the arrival of Lotte Mart than Metro or WalMart because Korean clothes and lifestyle are now the rage among young and middle-aged consumers.
Lotte Mart, set to open in District 7, has unleashed an advertizing blitz, she said.
Ms. Loan said foreign retailers have an advantage over their domestic rivals not only in terms of finance but also other many factors.
They own prime space, a central factor in the retail business, because they are willing to pay more, she added, while Vietnamese retailers can hardly find any space.
A domestic retailer said it failed to get land for an outlet in an unnamed province despite two years of efforts, but a foreign firm managed it in 30 days.
The province's leader made no bones about it: "In the marketplace, whoever has more money will get the better space."
Local retailers fail to team up
To take on the foreign firms, local distributors are planning to work together.
Four of the biggest retailers, Hapro, Satra, Saigon Co.op and Phu Thai, got together last year to form the Viet Nam Distribution Association Network Development and Investment Joint Stock Company (VDA) to strengthen their purchasing power, logistics, and distribution.
But it has yet to open any outlets and is still working on some logistic projects in Da Nang.
One of the members expressed reservation saying every partner is still working for itself.
A few years ago the HCMC Party Committee and People's Committee urged Satra and Saigon Co.op to come together and open outlets before foreign firms enter, but they failed to do so because they could not agree on a name.
Changing scenario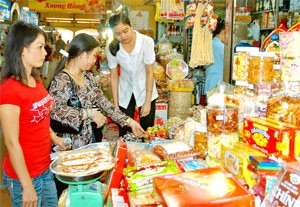 Shoppers at HCMC's Ben Thanh Market (Photo: SGGP)
Analysts have said the volume of goods distributed through traditional markets and pop-and-mom shops will decrease and shopping at modern supermarkets will increase.
Ms. Loan said foreign firms would need more time to study the Vietnamese market, and domestic firms should take advantage of this period to expand market share.
Dr. Do Truong Giang of the Domestic Market Department said the Government should freely sell local firms space without insisting on auctions.
Truong Dinh Tuyen, a former Trade Minister, said to develop the domestic retail market, the Government should provide incentives.
According to the General Statistics Office, the purchasing power of Vietnamese consumers has grown by 20 percent annually in recent years.
The country has been ranked the most attractive emerging retail market in the world by US consultancy firm AT Kearney.