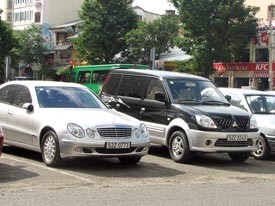 Latest model cars in Ho Chi Minh City (Photo: Tuong Chau)
The local automobile market is dynamic again after having been frozen for many months as low-price cars the stood out at the Autopetro Expo in Ho Chi Minh City in early August promise to hit stores in the near future.
Increasing Automobile Demand
Nearly 100 imported used cars in two months have impacted the local automobile market. However the demand for used car is being subdued.

Plenty of new models are now moving into the market. Ford announced its 5-door Ford Focus geared towards young businessmen and rich youths. Toyota also made its foray into the market with two new versions of Vios and Corolla Altis models.
Many promotional programs such as reduced prices have been launched to attract more customers. For instance, new Vios and Corolla Altis cars are US$1,000 – 1,500 less than the old models, although their qualities are better while the luxury taxes for made-in-Viet Nam cars has increased to 10 percent.
According to the VAMA (Viet Nam Automobile Manufacturers Association), its dozens of members sold 3,787 cars in June, an increase of nearly 50 percent from January.
The Right Time to Buy a Car
At the Autopetro Expo on August, many local automobile manufacturers have debuted their latest car models with competitive prices. Vinaxuki Company showcased 18 new truck models and several cars with attractive prices: US$11,500 – 12,900 for a light truck, US$10,780-10,900 for an eight-seat car.
On the other hand, Bao Toan Company, distributor of China's Lifan Group's in Ha Noi, introduced a five-seat car at US$15,000 – 16,000. The company partnered with a local enterprise in making a US$11,000 model in October, and they have scheduled a 7-seat MPV (multi-purpose-vehicle)'s completion next year. Hoang Tra Company stood out with the US$56,250 Flaw truck with 1.1 – 2.5 ton in weight.
Currently Honda is the most popular brand name in Viet Nam and customers as well as enterprises are now longing for the debut of Honda's Civic model.

Aside from famous brands like Honda, Toyota and Ford, local mid-range cars will have to compete other brands Hyundai in the next 1 -2 months. Hyundai General Director Vietnam Ha Minh Tuan said: "We will import some new 4-seat cars next month. Those cars are worth nearly US$35,000 – 45,000 for each without taxes".