Vietnamese shoemakers have gradually regained a hold in the local market as half of the 130 million pairs of shoes sold yearly in the country are made in Vietnam.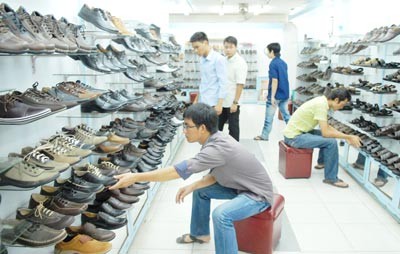 Shoppers check out locally made shoes at a shop on Nguyen Dinh Chieu Street in District 3, Ho Chi Minh City (Photo: SGGP)
Only a few years ago, shoes made in China, Thailand and Taiwan flooded the Vietnamese markets while local footwear companies tried hard to meet the fierce competition in the global market.
 
Although Vietnam is one of the five biggest footwear exporters in the world, it still had a tough time selling shoes in the local market. Only 20-30 percent of shoes available in the local market were made by Vietnamese firms. 
 
Determined to regain the market, large corporate giants focused their resources in the local market by expanding retail outlets nationwide.
 
Vietnamese brands like Biti, Bita, Vina, T&T, Hong Thanh, Tan Thanh and Hong Anh have now become quite popular in the country, with some selling in the Chinese market as well.
 
Vietnamese shoppers now hesitate to buy Chinese made goods after many Chinese products were found to be of poor quality and tainted with toxic chemicals.
 
Ms. Le, owner of An Ha footwear shop in Nguyen Chi Phuong Market in Ho Chi Minh City's District 10, said footwear from China has a variety of beautiful designs that are very eye-catching but they are of poor quality and don't last long.
 
She has decided not to sell Chinese made footwear to maintain credibility and now 80 percent of footwear in her shop is made by her own family set up or bought from established footwear companies in Ho Chi Minh City. Some of the bulk though is foreign made.
 
Le said designs of domestically made shoes are quite in vogue. Most of the sandals for students and men's shoes available in the market are made in Vietnam. They are durable and 20-30 percent cheaper than Chinese footwear, hence a local shopper seems rather interested in buying them.
 
According to the Vietnam Leather and Footwear Association, living standards of Vietnamese people have risen much more. The average consumption rate of shoes in 2011 per person has increased 2.5 times since 2000.
 
With a population of 86 million, the country demands 130 million pairs per year. This figure accounts for a remarkable portion of the approximately 780 million pairs produced annually by the country's footwear industry. 
 
Vietnamese-made shoes have an advantage in the local market because of low distribution costs.
 
The footwear industry is forecast to see a growth rate of 8 percent per year in the future and with increasing demand from local shoppers.
 
The country is estimated to need 355 million pairs of shoes per year by 2020, 70-80 percent of which will be made in Vietnam.