Vietnam Supply Chain, a platform for supply chain professionals in Vietnam to learn, share, and network effectively, organized a factory tour July 29 for almost 40 business people to visit an automaker, a plastic bag producer and a trader in Ho Chi Minh City.
Representatives of Mercedes-Benz Vietnam, RKW Lotus, and Häfele Vietnam introduced their business operations to the visitors, who came to get more insights into manufacturing and trading.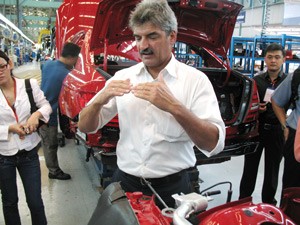 Mercedes-Benz Vietnam's technology director Ingbert Grombach gestures as he introduces the automaker's production line to the Vietnam Supply Chain visiting group on July 29, 2011 (Photo: Tuong Thuy)
Mark Millar, managing director of Hong Kong-based M Power Associates, which provides marketing, consulting, and advisory services to supply chain and logistics Asia-Pacific, joined the trip as a visitor and consultant.
The other guests included Atlantic Forwarding Vietnam general manager, sales and marketing, Peter Schupbach, supply chain executives of supermarket Big C, World Auto Company executives, and managers from Kimberly Clark, Scandinavian outdoor furniture maker Scancom Vietnam, sportswear manufacturer Decathlon, Indochina Automative, insurer Groupama, CEL Consulting, and some other companies.
Ingbert Grombach, technology director at Mercedes-Benz Vietnam, showed the visitors around the company's factory, which produces and sells passenger cars and sedans in the country.
The factory covers 105,000 square meters in Go Vap District and has a production capacity of about 3,500 vehicles per year. It includes a training center, which carries out sales, marketing and technical training courses to ensure a high level of employee competence.
The factory tour included RKW Lotus, a plastic bag and packaging film manufacturer that is a joint venture company between German Group RKW and Vietnamese company Lotus Chemical Technology Ltd.
RKW Lotus was established as a RKW Group member in October 2004, operating as a leading manufacturer of household bags, carrier bags, and films for packaging.
The company's main markets are European ones, said managing director Nguyen Nhu Khue.
"We make research and development here. At RKW Lotus, we are constantly developing new customized system solutions with out films and fibers to meet individual requirements from our clients."
He added his company was expanding production to meet fast increasing demand from overseas, thus would launch two new factories in the coming months.
The last stop of the tour was Häfele Vina, one of the largest suppliers of hardware in the country and a unit of Germany-based Häfele.
Häfele Vina general director Dominik Fruth, supply chain manager Nguyen Duc Quynh Lan and national sales manager Dang Cong Tran showed the guests the Häfele way of distribution of imports from Häfele's main warehouse in Nagold, Germany, and how a comprehensive range of hardware is managed and made available.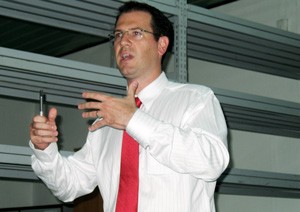 Häfele Vina general director Dominik Fruth makes a presentation on his company to the visitors July 29, 2011 (Photo: Tuong Thuy)
According to Fruth, thanks to experience and dedicated investment in stock keeping, Häfele can guarantee delivery capability and short delivery times. More than 3,500 orders are processed in the main warehouse in Germany and the dispatch centre in Nagold every day, more than 100,000 storage locations are managed and more then 50,000 articles are stored.
Supply chain manager Lan said warehouse management software enabled her company to automate storing and picking procedures with precision.
Fruth added his company also operated distribution centers in Hanoi in the north and Danang in the central region to cover all parts of Vietnam.
During the tour, Mark Millar, managing director of Hong Kong-based M Power Associates, updated the group of visitors with information of the China supply chain.
The next Vietnam Supply Chain factory tour is set for September 9, including the factories of Unilever, Jabil and Nestle.