HCM CITY (VNS) — Organic vegetables grown under VietGAP (Good Agricultural Practices) standards will be sold at traditional markets in HCM City with the support of the city's Department of Industry and Trade.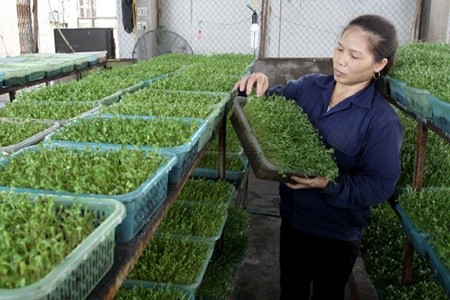 A worker checks organic vegetables at the Fruit and Vegetable Research Institute. HCM City's trade department is going to provide support to bring organic vegetables grown under VietGap standards to traditional markets. — VNA/VNS Photo The Duyet
Late last week, the department met with 17 traditional markets and agricultural co-operatives to discuss ways to bring VietGap to traditional markets in the city.
VietGap certified vegetables are usually sold only at supermarkets and through other modern distribution channels.
At the meeting, Ben Thanh Market in District 1 was chosen to conduct trial selling of VietGap vegetables at 32 booths in June and July.
Le Ngoc Dao, the department's deputy head, said that if the trial at Ben Thanh Market succeeded, the model would be expanded to 16 other markets.
Under the plan, each market in the city would have at least one or two stalls selling organic vegetables this year. The goal is to replace vegetables that have no label of origin, she added.
Nguyen Cong Thua, director of the Anh Dao Agriculture Service Company that produces VietGap vegetables, said that prices would remain the same as other non-organic vegetables.
The price of VietGap vegetables at traditional markets, in fact, would be cheaper than the same vegetables sold in supermarkets because there is no middlemen involved, thus effectively reducing costs.
Traders at traditional markets are expected to earn a profit of 10 per cent over cost when selling VietGAP vegetables.
This year, organic and VietGAP vegetables have become popular, as shown by sales at supermarkets and co-operatives.
Pham Dinh Huy, an official of a company that grows and sells organic vegetables in Go Vap District, said that in recent years the sales had increased by three times.
Each day, his company's three stores sell about 50-90kg of organic vegetables. Because of good sales, his company plans to open five stores by the end of the year.
An owner of a store in Nguyen Dinh Chieu Street said she started to sell organic vegetables in mid-2013. Now, she has 30 frequent customers and each day she sells more than 50kg of vegetables.
Last year, Saigon Co-op signed a co-operation agreement with 16 units that plant VietGap vegetables and fruit.
After one year, sales increased by 50 per cent from 60 tonnes to 90 tonnes per day. About 80 per cent of them were VietGAP certified, and another 20 per cent were organic vegetables and fruits.
A representative of the supermarket said it would continue to expand its business to support local companies that plant and distribute organic vegetables.