It's the year-end discount season. Everything from food to computer accessories is apparently on offer at up to 80 percent cheaper than normal. But are they truly bargains? Sai Gon Giai Phong set out to investigate.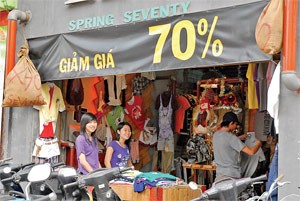 Spring Seventy shop in HCMC advertises a 70% discount on all items (Photo: SGGP)
Supermarkets are offering special discounts and freebies to attract buyers. Big C is offering 9-50 percent discounts on cooking oil, rice, detergents, shampoo, and kitchen items, and 6-12 percent discounts on fruits and chicken.
 
An official from Ho Chi Minh City's Department of Industry and Trade said retailers always try to boost sales at the year-end to get money for buying next year's stocks.
 
The more sales they achieve the more commissions they get from distributors and producers, he also pointed out.
 
Retailers and distributors are saying they are offering discounts also to encourage consumption after a long slump in sales due to the global recession.
 
Besides, they say, with high-quality goods from neighboring countries entering Vietnam, which will open up its retail market in the new year under its World Trade Organization commitments, they have to liquidate stocks, sell off products set to go out of fashion and those not very competitive.
                             
Virtual discounts
 
But the flip side of the great year-end bargain sale is that many retailers taken advantage of the occasion to pull a fast one on consumers.
 
One of the common tricks is to mark up prices and then offer 50-80 percent discounts.
 
Nguyen Thi Thuy of Binh Thanh District, Ho Chi Minh City, said she bought a dress marked VND650,000 but sold at a discount of more than 50 percent at a shop on Hai Ba Trung Street last week.
 
A few days later she stopped by another shop on Vo Van Tan Street to find exactly the same dress selling for VND180,000 with a free scarf thrown in as a Christmas gift.
 
Many household appliances are advertised as being on sale at huge discounts but, in reality, they are not. An LG or Toshiba 21-inch television is offered at VND1.99 million compared to its original price of VND2.45-3 million, but its actual price is only VND1.9 million.
 
The website of a computer supermarket is offering a Transcend 2GB USB at VND79,000 after a discount of 50 percent, while other shops offer it for just VND75,000, and without any discount at that.
 
An electronics distributor said retailers usually offer promotions at the year-end to attract customers but only a few units of one or two models are actually sold at a discount.
 
Imitations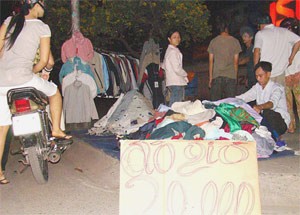 A hawker sells jackets for VND20,000 each on Quang Trung Street in Go Vap District, HCMC (Photo: SGGP)
In the evenings, roadside shops are springing up, selling many items like clothes, bags, shoes, and sunglasses, usually knockoffs.
 
The sellers claim the clothes are stocks being liquidated by a company who makes them for exports, but in reality they are made by small clothes producers.
 
They buy poor-quality materials to make rip-offs and then sell them at prices that are 40-60 percent less than the brands whose names they illegally carry.
 
Shoppers are happy at the bargain price but before long, when it breaks or frays, they realize it is a fake.
 
The city Market Management Office has seized thousands of watches and sunglasses carrying fake trademarks that were being sold for VND1 million though their actual cost is only VND15,000-35,000.